News
Audio: DJ Bone delivers a serving of Motor City grit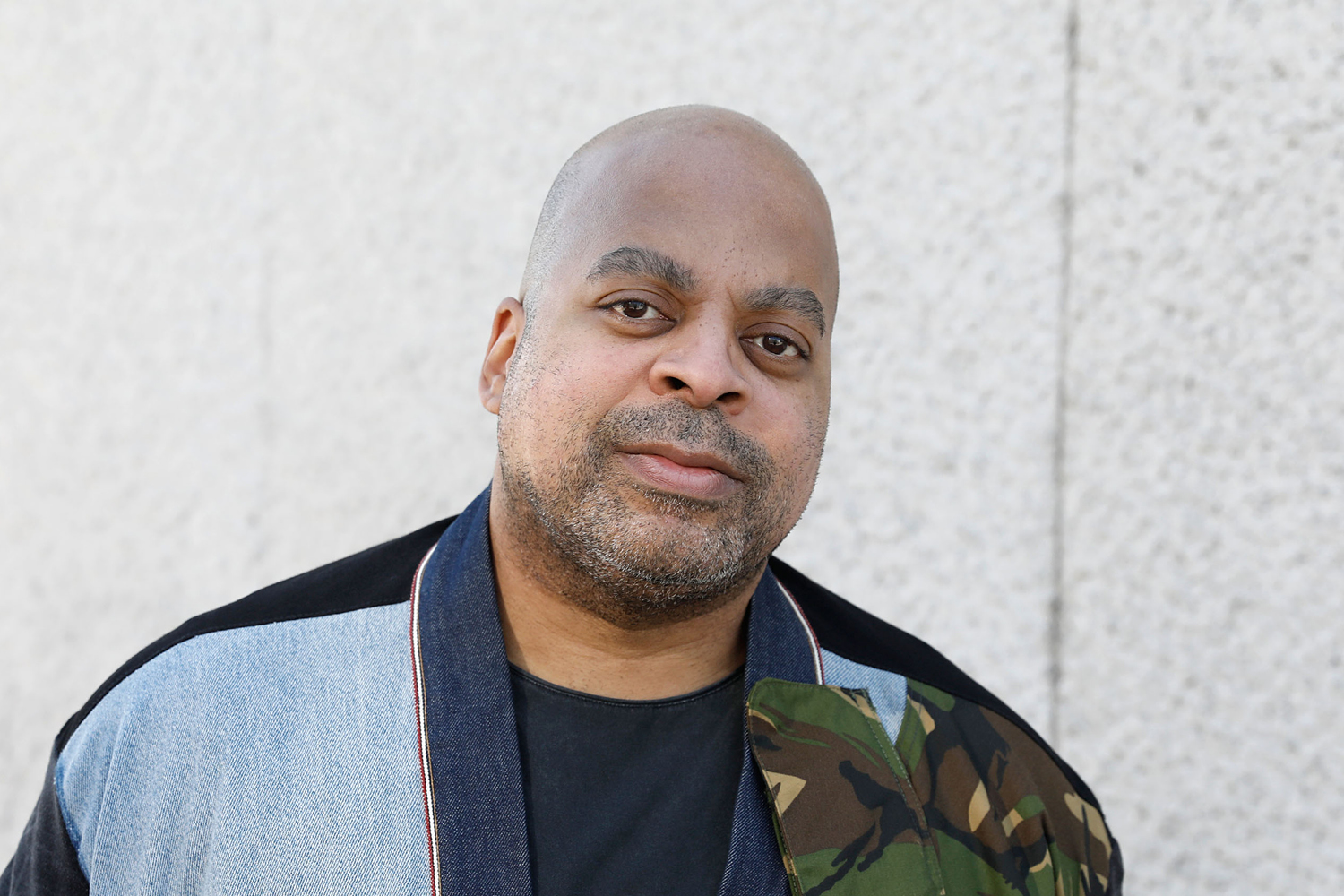 "We take no prisoners, and most of us will keep it as real and as raw as it gets 99.9% of the time." Eric Dulan, the DJ and producer better known as DJ Bone, says of his local Detroit community below. The Motor City is famous for its steadfast techno scene, but few embody this determined spirit better than Dulan. Over the course of three decades, he's independently championed his own style of techno, channelling a singular sound that's at once driving and soulful. One of his key outlets for this is his leading label Subject Detroit, but he's also renowned for his technical prowess behind the decks: typically he'll tear through stacks of records across up to three decks at a time, and his baffling mixing tricks are up there with the best to ever do it. This shouldn't come as a surprise for someone who grew up watching The Wizard and Mayday, but as he tells us, it was an early love of hip-hop that helped teach him the fundamentals of scratching and honing an individual style. Nowadays Dulan is still holding it down in his hometown in between his regular gigs around Europe – as an artist, but also through his fundraising work with Homeless Homies. Later on this month he returns to Farringdon for Collisions, and as it's his first one with us in six years, we were set on lining him up for a mix and interview. Below, he serves up a pacey set of fresh, high-tempo Detroit grit, and reflects on where he stands as an artist sticking to his own terms in an ever-changing scene.
Download:
DJ Bone fabric x Collisions Promo Mix
What have you been up to recently?
I just took January off to make some new music, but now I'm back to travelling and playing out. I have also been working with my manager and team to organise my upcoming DJ Bone & Friends nights for 2020. Very excited about these.
We've seen the great work you've been doing with the Homeless Homies Foundation. Are there any memorable moments or stories that have come out of that?
Yes, the work we're doing for our Homeless Homies means the world to us. It's humbled and grounded us (my wife Ahnne and I) so much. The love we receive from the people we help (as Ahnne says "actually they're helping us") is amazing. We've forged some great friendships that will last forever. They've been so appreciative as well, showering us with many mindful and meaningful artistic gifts and hugs. I think the highlight was this last Christmas. We hosted several of our homies for a Christmas dinner out, and then put them all up in hotel rooms for a few nights. We ate, celebrated and shared some great and also sad stories. It was a very powerful thing.
Is there a theme to the mix you've put together for us?
Not necessarily. The basic idea was to do an aggressive, up-tempo mix but to use all new tracks that I'm pretty sure people haven't heard yet. I also brought the moodiness with this mix to hopefully evoke some feelings from the listeners.
"The basic idea was to do an aggressive, up-tempo mix but to use all new tracks"
This feels like a more driving style than we're used to hearing from you in the club – less tricksy and more hypnotic, but you still cut through a lot of records. How did you select the tracks?
Very true. It definitely has pace, but I laid way off of the tricks and cutting since it's very hard for people to understand my style unless they can see me. I chose mostly unreleased or soon to be released tracks that either captured emotion really well or immediately made me want to move. The bar for songs to make this mix was very high.
Some DJs think putting together a podcast is more difficult than playing to a crowd. How do you approach compiling a mix compared to stepping into the booth in the club?
A mix definitely takes a bit of planning, but only in deciding which tracks I put into my box. After that, instinct takes over. I always do my mixes in one take, so I really meditate beforehand and become super focused. Mixes at home or in the studio are way more difficult because there's no energy coming back at me like in the club. Gigs are much easier for me actually. I love the energy exchange and the vibe we collectively create.
You have one of the most technical DJ styles we've ever witnessed. We know you learned some things from The Wizard, but was there anyone else who influenced your unique mixing style? You used to mix hip-hop too, right?
I was influenced by The Wizard and Mayday but I had two friends, Sneaky Pete and Ron E, who taught me the basics (and beyond) of DJing. I used to play hip-hop a lot, especially at my first residency in downtown Detroit. I used those influences as inspiration and built my own unique style on top of that.
"Detroit was on fire"
Were there any specific Detroit parties or venues that had a formative influence on your musical journey when you were getting into electronic music?
The legendary Music Institute where I'd go to hear D-Wynn and Mayday and the Majestic Theater with Blake Baxter. These two venues influenced me the most. I would go every weekend waiting to hear new music I've never heard before. I knew it would be good because I trusted their tastes in music. There also was an amazing gay club called Heaven with Ken Collier (who was basically The Godfather as far as house music DJs were concerned) in Detroit. It was like going to church!
The late 80s and early 90s Detroit scene is often mythicised. But are there any artists or parties inspiring you in the city today that we may not know about?
Mythicised for sure, and rightly so! It's impossible to describe to people just how raw, real, beautiful and pure the Detroit scene was during the 80s and 90s. I experienced some of the absolute best nights, music and DJs during those years. Detroit was on fire and it was a very exciting time. But, as time went by the city's club owners along with the Detroit Police methodically extinguished the warehouse/"rave" scene, driving most nights into clubs. The underground took a huge hit. Nowadays, I travel so much that I don't really get a chance to notice many up-and-comers. But there's an Internet show called The Basement Detroit that streams mixes live. It's the epitome of underground. Artists and DJs like Body Mechanic, The Butcher and Jeremiah Shaw are keeping that underground vibe alive in the D. There are so many up-and-comers whose names are mentioned a lot but I feel they basically went the social media route as opposed to grinding it out with residencies or shows.
Detroit artists have a reputation for putting in hard graft and sticking to their own terms. Why do you think this is? Do you think this is generally true of those repping the city today?
It's moreso an old school mentality. It is not necessarily limited to just artists making Detroit techno either. Native Detroiters are extremely proud people, with very independent mindsets. We take no prisoners, and most of us will keep it as real and as raw as it gets 99.9% of the time. This is due to so many people being taken advantage of and/or screwed over in their careers. In essence, a super serious and hard city created this way of thinking. You definitely have some real ones still repping this realness in the city all day every day.
"We take no prisoners, and most of us will keep it as real and as raw as it gets 99.9% of the time"
People often talk about how cities like Berlin and London have changed over the last decade, not always for the better. How do you think Detroit's music scene has changed in the last 10 years?
Sadly it's not as prevalent as it used to be and should be. But there are many factors at play that caused this. The decline of vinyl sales, a lack of decent and reliable distributors, the extinguishing of the warehouse party scene, and the glut of DJs due to how popular techno and DJing are today. I know there are people struggling and fighting, and I respect and admire them. Hopefully soon we will see some more of these artists get their due. We've been helping out the homeless homies in the city but soon we're going to invest in something for the techno community also.
We watched your house set at the last Freerotation. How do you choose the house tracks that make it into your bag to complement your usual techno funk style on a regular set?
What a vibe that was. Such a special moment in time, I loved it. I love playing special house sets. I try to pick songs that are soulful and uniquely funky in their own right. But I always want to cover the entire spectrum of funky disco and house, so I take my time and choose very carefully. I want soulful, deep, vocals, eclectic, electronic, analog, acid, even a curveball or two... all of it!
You've been a key driving force in the scene for three generations. What advice would you give to younger artists who are hoping to endure for a similar timeframe?
This used to be an easy question to answer, but lately things have been turned upside down. Normally I say be true to yourself, don't tap-dance for anyone, master your craft, be original and success will come to you. Although this remains my ethos, it's become so seriously backwards that this may now be bad advice for new artists trying to make it. The majority of promoters now base who they book solely on the popularity and amount of followers a DJ has. Talent has been pushed so far down the requirement list that it's about to fall off. This is another reason I'm doing my DJ Bone & Friends nights. To instil confidence in the people paying to dance at gigs. That they get to hear and see some talented DJs and not just a popular, trendy name-of-the-moment figure. The struggle continues... nothing new for me.