News
Audio: DVS1 - fabric Promo Mix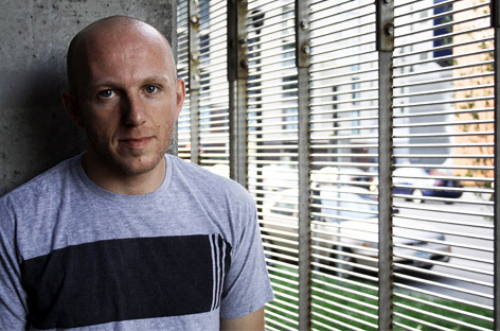 It's been a busy couple of years for Zak Khutoretsky aka DVS1. He's since been catapulted into the spotlight thanks to his releases on Ben Klock's Klockworks and Derrick May's Transmat Records, both achieving critical acclaim and impressive DJ support. Having premier singles on such highly regarded labels was a big part of the impact and wow factor when Zak's music finally made it out there, but in the context of his work to date it was an overdue progression of what was already shaping up to be a full and prosperous career on a local level, as a dedicated music man in the USA's unsung Midwest metropolis, Minneapolis. In a way it's refreshing to incubate talent and passion that has been living and breathing in music before putting any ideas onto the dubplate. After gathering up his influences over 20 years of involvement in music it feels right that this is the time for DVS1 to reap what he's sown. We caught up with Zak ahead of his first ever UK show in our disco on the 5th of March, to chat about his past and future projects, including the forthcoming 15th birthday of his promotion
Hush Sound
, and how it all turned around for him in his 'right time right place' meeting with Ben Klock. Plus check out this fresh DJ mix previewing some of Zak's new and unreleased material.
DOWNLOAD:
DVS1 fabric Promo Mix
Your roots in Minneapolis are much discussed, what makes it special to you and why do you think people are so interested?
Ever since I started getting asked about Minneapolis in interviews and what makes it so special, I've slowly repeated the same things over and over. What I've never really thought about until now is that we don't brag about what we have, we don't really try and explain it; we just do what we do and have people who feel very passionate about it. Because we don't have the opportunities of some of the bigger cities in the US we work hard for what we have and it's something special and really indescribable when it works.
There's a cool story about the night you met Ben Klock, and how your first release came together with him could you relay this to our readers?
My meeting with Ben really came together during a period of major change for me. I had just shut down my club, started and ended a new night and was really searching for what my next investment of time would be. At the same time some local promoters had asked me if I would be willing to do a live PA. I had only done it one other time and that was 3 years prior. I agreed to do it and started focusing on my productions. About a month later another promoter announced the show with Ben on the same night, so I asked the guys that I was playing for if they could put me on a bit later as I wanted to go check Ben out. That night, after Ben got done playing, the promoters asked him to come with to check me out since it was something rare for me to do a live set; he almost didn't make it, but they convinced him that it would be worth his time! He literally walked in as I started and after the set, we chatted quick and made a connection. A few weeks later we started emailing and he asked me if I put any music out. I told him that I hadn't ever thought about it, but that maybe the timing was right for me to start! He picked 4 parts of my live set that he liked and I developed that into what became my first record. One of those 4 tracks didn't make it onto the release, but will be on the next Klockworks record coming at the end of March. I've said it before, but I was never the right guy in the right place at the right time until that night. I had been happily working throwing events, DJing and being a part of my local music community for over 15 years until I got the chance to release that record. Now I'm really focused on making music and exploring the next steps in my passion for this music.
We know your first Klockworks release was developed from loops in your live set – has that process changed as you've produced more?
It's interesting that you ask that. For the last year I have been doing a lot of remixing for people and it's changed my approach a bit. I still make everything in looped based ideas, but I had to think about things in a full finished concept. As I started stepping back into writing more original tracks again I was having so many problems getting anything out. About a month ago, as I finished all my remix obligations I started making loops again and reminded myself that my best ideas came from simple beginnings. Places where I wasn't thinking about the final outcome or how I was going to lay things out later. I'm stacking ideas now and getting back to that initial approach that worked for me. It's really hard sometimes to remind yourself how to get back to your most basic needs. The simpler I make things, the more effective they are.
What's been your favourite moment of the last couple of years, after your success went international?
Really it's the DJ opportunities that have come from releasing music. I'm a DJ first and foremost. The production side of things doesn't come completely naturally. I've described it as speaking at a certain level - as a DJ I feel like I'm able to convey and paint you a picture of my emotion or thoughts but as a producer, well.. I'm still learning to speak and describe where I'm at. As I get deeper into this, I'm learning to express myself through my production and hopefully it'll get more dynamic as time goes on. Speaking of opportunity, the biggest highlight for me was being asked back to Berghain for the 2nd time to play at their anniversary night last December. Not only was I invited to a special night, but was given the opportunity to play a 10.5 hour set to a dedicated crowd of music enthusiasts!
What releases do you have planned as DVS1 this year?
Klockworks EP (KW08) in April as well as a full EP on Luke Slater's Mote Evolver. Theres another Transmat release is also planned before year end.
You're set to launch your own label Hush Sounds, what can we expect from this new imprint of yours?
The HUSH label is a celebration of my 15 years involved with music and DJing. I'm sitting on a good amount of tracks that I would say are really MY SOUND. I've sent them over to a few people that liked them but didn't want to put them out, so it's time for me to step it up and put them out myself. I'm leaning towards doing 10 inch releases with 2 tracks on each, high quality pressing, limited runs and special artwork. The anniversary is next December and I'm just now starting to put the wheels in motion. I have a few meetings with some distribution channels and we'll see where that ends up. Really this is just a way to show my love and dedication for vinyl, for people who support me and to take the next step in my own evolution!
Is vinyl important to you then?
I have supported and played vinyl since the beginning of my days. The feeling I get when receiving something I've created on vinyl is just amazing to me…I don't think I will ever get tired of it. To have that feeling come from something I see through from start to finish will be even more rewarding. Vinyl, unlike any other medium has withstood the test of time…as not only a way of listening and playing back, but also as an audio archive of that moment…not only for me as the producer, but for the people who buy it and listen to it. I'm also printing up a run of Hush Slip mats
This is your first time at fabric and in the UK are you excited about that? What does it mean to you?
Playing London and especially fabric is really special for me. Similar to Berlin and Berghain… fabric is a place of legend; a place that I had imagined myself wanting to be in the audience listening to some of my favorite artists. I had always seen from a far what was coming and who had played recently and now to have the chance to not only be there, but also play music is just really humbling… Being from Minneapolis and the Midwest in general, I was brought up playing on large, powerful systems. One thing that really excites me, is that I pick music based on the sound system I'm gonna play on…and knowing the system at fabric, I'm packing my bags accordingly! Playing at Fabric will be another HUGE highlight for me in my DJ career thus far. Being able to play on that sound system I've heard so much about is something I can't put into words…I've been digging for music that needs to be played on that system!
You can witness the first UK performance of DVS1 at fabric on 5th March, for more info and tickets go here.