News
In Conversation With...Morphosis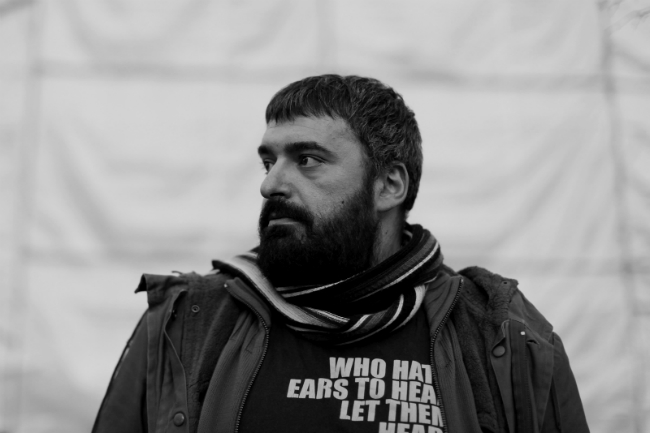 Morphosis
has been around long enough to see techno as we now know it blossom. From the release of Detroit fathers Jeff Mills and Carl Craig's formative records, he's seen how their material has impacted on a musical climate and he's been able to watch it progress over the 20 years since. It's in the development of music that Rabih Beaini's creativity really lies and that drive can be found in the plethora of different roles he holds, be it as a label head, club booker, the leader of his experimental Upperground Orchestra or in the studio, bringing together sonic structures solo as Morphosis. His 2011 album
What We Have Learned
for Delsin was a true expression of his character. Recorded over two days it was a work of improvisation and flow rather than painstaking programming and tweaking that are often associated with computer based production. Instead it proved to be a way for him to move beyond the current modes of production, beyond computer powered sequencing and on into exploring the possibilities of loops and letting them come to life. This free work flow translates into Beaini's live set which he promises to be "an improvised session creating new outputs in time and space - the same process of producing, remixing and thinking, applied on stage." He's also pointed us in the direction of a live set recorded earlier this year that you can stream as you read more about his new projects and those teases of a step up in output on his Morphine imprint in the coming year.
Your career has many different aspects to it from running a club in Venice, your label Morphine and your productions under various guises - why did you feel you wanted to take on all these different roles within music?
For me Music world is something that has different input ways and diverse inspirations, I think composing is only a very tiny piece in the whole spectrum, while managing, producing, promoting, meeting people and sharing material and thoughts, are very important parts of the inspirational process. Especially when you live in a place where all these things are not properly covered, where for a long while you really can't attend a good concert or buy a good record if not on the internet. When I decided to start the label and then the club, the urge was also social, things in northern Italy were quite superficial in the making and the whole scene had barely few forward thinking people, it was something I needed to compensate.
Going way back what first pulled you in the direction of producing and working with techno? What artists if any were a big part of inspiring you?
It was quite a natural process, of course I was already playing records and this brought me directly to this area of music but when slowly I was discovering the roots and the main inspirations of the music I was playing I was more and more digging and experimenting with diverse kinds of inputs, the production process was heavily influenced by these inputs, records that clearly inspired the Techno development like Sun Ra's more electronic and afro-futuristic stuff, Herbie Hancock, Pink Floyd and the Krautrock in Germany, then Italo-Disco and the early house and techno records had a natural connection that, with the use of cheaper electronic devices and the decreasing need of expensive studios made of Techno a true social revolution. I must say that the early Carl Craig and the Jeff Mills works amongst many others were definitely a clear example of how all these earlier works shaped the electronic music world and the direction Techno took during the years. For me this is probably the most interesting side of music generally, the whole process is extremely fascinating.
At the point you were releasing your album last year, you had just about to move back to Lebanon, after 15 years in Venice why did you take that decision after achieving so much in Italy? How have you found it, what projects are you working with locally there?
Italy is the place where I had the main formation part of my life, I got in touch with so many interesting things and started many projects, at some point I knew it was time to move on, especially after closing down the Venue, it was somehow a natural decision to look for other inputs, this doesn't mean I'm no more in touch with the Italian territory and scene, it's still in a way my homeland besides Lebanon, now I'm based between Byblos and Berlin, in Lebanon I have some things I'm working on, some collaborations with local musicians and some research on the local traditional music, but I also spend most of my time in Berlin where I'm more able to proceed with my projects and take care of the label.
Morphosis releases have been thin on the ground this year - what's been your main focus? I saw you had an album out for your Upperground Orchestra Project...
I decided to focus more on the label, it's where my energy is more complete and where I can be a bit less a studio nerd. I'm really excited about some new music released on the label and I'm dedicating some more time for that, besides doing some remixes and playing shows. The Upperground Orchestra album came out on the Live Series of Morphine and it's a live recording from my band, another thing I wanted to focus more on as well this year. But all this didn't keep me out of the musical production tip, some material will soon be out and I'm so happy I took some time off in order to have a fresher approach.
You have another new project's album out next year under your own name, can you tell us some more about that and about the label behind it? Have you followed your more improvisational approach (like the last Morphosis album) for this release?
The Lebanon based Annihaya curators are amongst the more respected musicians on the experimental scene worldwide, I have a deep respect for these guys and I was happy to know they somehow got into a curious idea of asking me to produce a record for them, the label normally has a more folk and experimental output, the concept behind the label is based on a different view of traditional and folk music Sun City Girls and Praed are among the excellent range of musicians that rotates around the label, they also have Al Maslakh and Johnny Kafta and other labels and projects by this really amazing collective of musicians. The album I'm finishing now is somehow my own vision of what can be a folk and post-punk path, it might sound a bit different but somehow it does have my own imprint. The approach was exactly the same I followed for the WHWL album and mainly all my other productions, recording sessions and overdubs, the album will also feature Piero Bittolo Bon and Tommaso Cappellato from the Upperground Orchestra on some pieces, it's kind of a weird clash of acoustic instruments and electronic synthesizers, both used in a diverse way.
And finally, how do you translate your backcatalogue into a live set - what can we expect from your performance at The Nothing Special?
I will be definitely following my own and natural psychedelic path, improvised session creating new outputs in time and space, the same process of producing, remixing and thinking, applied on stage.
Morphosis will be performing live in Room Two for The Nothing Special, joining Pearson Sound and Craig Richards on Saturday 8th December. For more info and tickets go here.