News
In The Company Of... Jokers of the Scene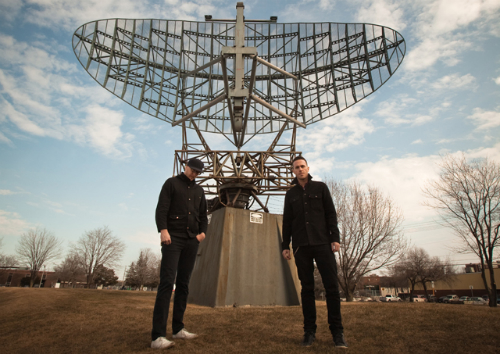 Ottawa's Jokers of the Scene named themselves just so after a refusal to categorise their sound resulted in fellow DJs not taking them seriously. Almost a decade later, having become established amongst their peers with a back catalogue of remixes practically bursting at the seams, as well as having gained the adoration of party goers worldwide with their high energy sets encompassing everything between techno and early rave, Jokers of the Scene's Linus (DJ Booth) and Chris (Chameleonic) are most definitely having the last laugh. Oh, and did we mention they were one of the first artists chosen to sign to A-Trak and Nick Catchdubs's NYC trend setting label Fool's Gold?... On Friday 20th May the duo will be visiting British shores, more specifically landing square in Room One here in EC1, to join Filthy Dukes' for their Kill Em All Room Two takeover. Ahead of the electronic musical madness bound to ensue, we caught up with Jokers Of The Scene for a little 'getting to know you' session, including an aural delights in the shape of their darn cool pre-European tour promo mix.
Download:
Jokers of The Scene - "Life Laughter Death" Mixtape May 2011
Hi guys, how are you?
Linus - Good, good... just finishing some studio work before we head off to Europe to start this tour. Chris - All is well back home. It's been a very productive past few months. The first half of 2011 has possibly been our most prolific yet, so we're pretty energized.
So how did Jokers of the Scene come about – was there a special moment which sparked your bromance?
Linus - Must have started when Chris dropped off his debut CD at my record shop on consignment 10 or so years ago. Think he took all his CD money in credit so he'd order titles and I'd recommend others. From there, the "bromance" was sparked and we went on to throwing local parties, hosting larger events and eventually forming Jokers. Chris - We realised quickly that our taste in not only music but things in general were very much on the same page. I started spending more and more time at the record shop until I was there almost daily, and eventually behind the counter with Linus. With music being the main focus in both our lives, it was inevitable that we'd eventually start working together.
For those who may not be well acquainted with your sound, how would you describe it?
Linus - We're at that stage in our career now where we finally have a solid fan base who expect the unexpected. It may not be for everyone but I feel that we're finally able to truly represent ourselves musically. Sonically it stems from mixing a variety of genres outside of the club and seeking influence beyond music. It all makes sense to us and we are thankful others find it of interest as well. Chris - Our approach is definitely rooted in techno, but it can swing in many different directions. We try to expand on what is "acceptable" in a club context, and we've been told that we make "moody" club music that offers a more cerebral experience. I don't think that's conscious, though. We challenge ourselves as much as we can in the studio, so naturally our music will take on many shapes and perhaps be challenging to the general listener. I suppose we're somewhat unpredictable.
As well as DJing and producing, you've become rather sought after as remixers, do you have a favourite track you've remixed from the last couple of years?
Linus - I find most satisfaction with projects that push us outside of our comfort zones. We tend to approach remixes as full re-workings of the song. Some tend to be for the club but my favourites would have to be our recent projects with Jason Forrest, Salem and The Acorn where we can highlight different aspects of our sound. Chris - I have to agree with Linus, and I think this is central to why we have such a good production partnership. We definitely don't feel we should be limited to just making typical dance "bangers." That bores us to death, so I think our favourites are the result of stepping way out of the box.
We've heard you'll be in Europe for most of this month, being so far from home, is there something in particular you'll miss the most?
Linus - Luckily we've fallen into a nice pattern of returning to Europe for a few months each year generally during the spring and fall. I would miss that more than anything. Balancing our focus in Europe, the US and at home in Canada is a huge part of what keeps us motivated. Chris - I'd say the only thing we miss while on the road is the studio. We record our music with hardware, so we can't really take that on the road with us. It gives us a good break to recharge the creative batteries and return with new inspirations, but the itch can get pretty intense after being away for a while.
When it comes to being a Joker, are you more of a practical joker or are you good with the gags?
Linus - Heh. We generally find humour in every situation. You need to when you're on the road so much! We're really good at laughing at ourselves and reminding ourselves why we started doing this when frustrations arise...if it's no longer fun, why bother? Chris - I think our sense of humour has kept us going over the years. We probably joke with each other more than anything else. There's humour in everything, and when the going gets tough it's good to laugh. It's humbling. Our music may sound dark, but our personal lives are full of jokes.
What's the best practical joke you've had pulled on you?
Linus - Hmmm... stupid university stuff? We used to always order the dumbest yet most expensive "bill me later" crap for each other in the mail... I was once sent a Laurel and Hardy Franklin Mint collectable plate set as a prank. Rather than refusing the order I recall a bunch of us ate an incredible pasta meal from their fine porcelain and THEN proceeded to repack the collection of dirty dishes and return to sender. I never did receive the bill... Chris - Underwear in the freezer. Grade 4 sleep-over…
What have you got coming up that we should be keeping an ear/eye out for?
Linus - We've taken a break from doing remixes over the past few months to focus on original material. I think we have one more remix that's still to drop but in the meantime we've been writing material for a couple new Jokers' singles and focusing on songs for our live project called Blank Capsule. It's a collaboration between us and Toronto musician/vocalist vitaminsforyou which is allowing us to complete a full body of work for a potential album release; a series of "short and sweet" dark pop songs like only we could do. We're also looking forward to developing the Blank Capsule project as a full live production when we get back from this tour. Chris - The Blank Capsule material should surface in the early fall, and we're hoping to have the 6th Jokers' single out by the end of the year. We would like to eventually release a remixography collection spanning our entire career as well and who knows, maybe we'll start yet another side project. It's good to keep 'em guessing!