News
Introducing Foundation: Sticky & Scott Garcia's New DJ Partnership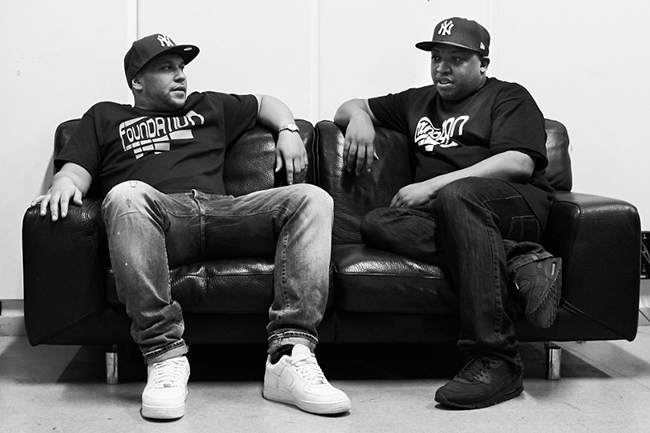 After aligning their schedules for a rousing back to back set at an Urban Nerds hosted Room Two takeover last year, garage pioneers Sticky and Scott Garcia formed a new DJ partnership, Foundation. Built on their shared core principles and benefiting from their wealth of musical experience and a combined legacy in the garage world, the partnership has helped to breathe a new lease of life into their output. Ahead of their return to Farringdon under the new name, we caught up with the pair to further discuss the origins of the project and how it actually works it a club setting…
So… can you tell us, what's the main idea behind Foundation?
Sticky: Even though Scott and myself are originally known from the garage era, we are both BIG fans of big bass dance music old and new. We looked at it as a celebration of the big bass sound. Scott: Yep agreed the idea is to cover the spectrum of and pay homage to the "rave" sound
I hear it came about after you played here but what made you want to make it its own thing and form as a regular partnership?
Scott: Indeed, you could say that fabric was the birthplace of Foundation for sure! Sticky: We were constantly having conversations on the phone about the set we did there and we both agreed it was fun to do, so it was a natural progression I thought that we would team up and play as a duo more often.
Obviously you were both individually big parts of the garage scene but do you feel like you've always shared a musical vision?
Sticky: We have always played each others music even from back in the day. It was a standard procedure. And we are both fans of the same dance producers out there. Scott: I was always a big fan of Stix so working with him at first was kinda mind-blowing but there is definitely a connection on a music level which makes it so easy to work together.
How was the partnership evolved for both of you since you started?
Scott: Its all been really natural to be honest, we keep the focus on enjoying what we are doing, everything seems to be punctuated with bouts of laughter which is cool. Sticky: The more we have played together, the more creative it has become. We are coming up with the craziest concepts and mix ideas it's only going to get better.
I hear you're both using Vestax controllers, how has this new technology changed the way you perform?
Sticky: Ive been using vextax controllers for 3 years now and I was excited to get the new model, the 380. I was showing Scott what it did on the phone then he said " That's it...... I'm copping one of them mate" Scott: yeah I'm am now converted, must admit I was always a little sceptical about the whole laptop DJ thing, but the Vestax controllers have increased the creativity of the Foundation sets and enable us to drop tracks in new and inventive ways.
Is it more reactive for you?
Scott: The machines are a big part of the Foundation sets, the real time efx pads and loop / slice features can really whip a crowd into a frenzy when used correctly, you can literally remix a track live which is dope Sticky: Everyone that sees the machine they are in shock..... "What's that?" they ask. Then they hear it been battered!
What are the reasons behind using this equipment?
Sticky: You only need 1 plug and 1 input channel. It's very convenient. I've done many years of carrying records to the point of having dented shoulders...... not any more thanks. Scott: for me it was the fact that I was sick of playing CD's I had a really mad system where I would only burn 1 track per disc, it was supposed to help me find tracks easer…. it didn't really work and in the end I would be searching through the CD wallet for tracks and almost running out of time to get the mix in! This way all of my music is in one place and easy to find.
What can people expect from the set?
Sticky: they can expect.........the unexpected!!!!! We don't know what to expect. every set is unique. Scott: The only rule is…. There are NO rules!
Catch Foundation in Room Two on Friday 26th April.