News
Introducing...Karenn (Blawan & Pariah)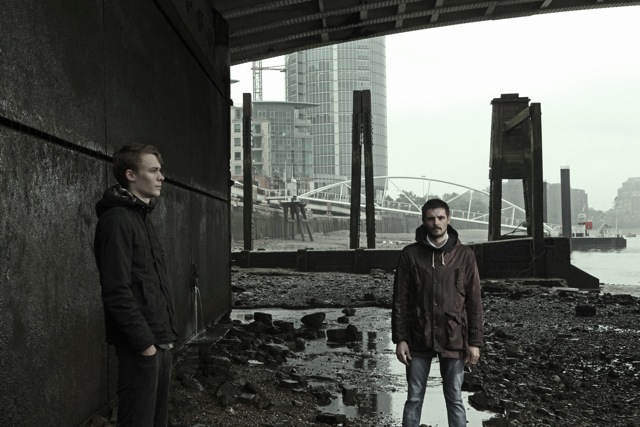 Individually both Blawan and Pariah have made names for themselves, with releases between them on labels like Hessle Audio, R&S, Clone and Joy Orbison and Will Bankhead's, Hinge Finger showcasing their personal take of sound design and more beat lead experiments. Their direction of the two producer's collaboration as Karenn took a few people by surprise; although Blawan was leaning more and more to 4x4 with his releases around that time, Pariah's records still jumped from ambience, to garage, to 4x4 and back again. At the start the collaboration was a bit of a riddle with Mary Anne Hobbs announcing them as the guilty parties when premiering their remix of West Norwood Cassette Library's
'Get Lifted'
on her XFM show but a release on the duo's newly minted She Works The Long Nights label followed and cemented their streamlined techno focus on wax for all to hear. Widening the label's reach further, She Works became home to work from Sunil Sharpe and a collaboration between Aus Music producer Midland and Pariah, before the duo felt it was time enough to release their next material as Karenn: a 6 track, double 12" EP that delves even further into the analogue soundworld the duo has created together. Working more on hardware has really helped sculpt the rawness of their material and it's
the same machines
that they'll be bringing to Farringdon this Saturday when they perform the UK debut of their live set. Ahead of the spectacle we spoke to the dynamic pairing to figure out just what we can expect...
STREAM:
Karenn - SHEWORKS004
Individually you've both only played out as DJ's right? Why have you decided to put this project into a live set?
For us, it's a nice way to separate this project from what we both do with our solo work. Also, we now record all of our music live so a live show seemed like the perfect opportunity for us to present our music in exactly the same way that we make it.
How did you go about translating your studio set up to what you'll be using on stage?
Mixture of analogue machines and effects, all the equipment that we use on stage is more or less the same equipment that we use in the studio when we are recording Tracks. This has meant that the preparation for the live show has really been a simple process of just joining our workflow into longer sessions.
Have you been focusing more on an improvisational set or presenting finished tracks?
It's a bit of both really. We get together a really basic structure of ideas or tracks but with every live show there's always going to be a certain amount improvisation involved so there always ends up being sections were we're just jamming on the fly.
What would you say were the different elements each of you bring to Karenn?
The lines have blurred considerably from when we first started doing it and it's because our method of making music has shifted from being totally based on a computer to not using a computer at all. Now when we make Karenn stuff, we just get together and start messing about on our machines until we come up with something that we're into. Neither one of us will exclusively do one thing or the other.
What have you got in the works release wise?
We've actually just announced our next release which is going to be a 6 track 2 x 12" on our label. This release is important to us because it's a really pure representation of how we work together.
This being your first ever live outing, how are preparations going?
They're going well. We got the opportunity to spend some time at an arts center that our friend runs in Switzerland where we spent a few days rehearsing and preparing a show. It was the first time that we'd ever tried rolling out quite alot of tracks into one continuous piece of music and it actually came together pretty quickly.
Why have you chosen fabric for the debut performance?
Great club with some great artists playing on the night too, It's great to be doing this for the first time in London alongside Peter Van Hoesen.
Catch Karenn debut their live set in the UK in Room Two this Saturday.