News
Introducing... KRL + His fabric Promo Mix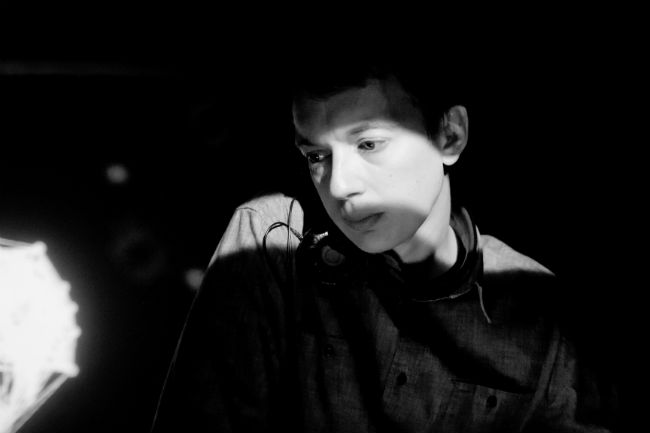 What a month February has been. We've had everyone from UK techno's most discussed producer,
Blawan
to Chicago legend,
Lil' Louis
and label takeovers like
Ostgut Ton
and
Wiggle
descend down our labyrinth of stairs. In our fourth and final Saturday of this robust music month,
WOLF Music
will be making the meandering journey to Room Three, delighting us with their upfront and classic house gems and stellar roster, including original resident producer of WOLF,
KRL
. There's a lot to get to know about KRL - the once hip hop DJ who competed in the DMC championships and whose brother,
Greymatter
is also a part of the WOLF Music roster and performing live for us this very Saturday. Balancing his time between being an acoustic engineer, DJing regularly across Europe and making his own material in the studio, you can hear KRL's hip hop background in the tracks he designs - built on sampling and reviving old soul music and taking them to the other end of the house music spectrum, making them something new. Starting off 2013 with something new of all his own, read on in our interview with KRL to see what tricks he's got up his sleeve next and press play on his exclusive mix for the blog which he says is
"a short, but hopefully sweet mix of new house and old soul - tracks I love at the moment and am playing out in my sets. It's an accessible mix. I think it gives an idea of what I am about. There are a few quick edits/re-works in there too.
" Find the full track listing at the end of KRL's interview.
DOWNLOAD:
KRL fabric Promo Mix
It's the first time we've spoken to you so tell us a bit about how you got involved with WOLF Music and for fun tell us something we don't yet know about you?
Hello there. Nice to meet you too. For me I suppose it started in the Mr Bongo Records office in Brighton 5 years ago. Greymatter was working for the label, Matt was running a music download site, and I was doing the mail order, making tea and bringing general vibes. Medlar later joined as an intern, in charge of the biscuit contract. Matt called me up to tell me about the record label idea he and Stu had and asked if I had any music. I sent over Remember Donny but apparently it 'wasn't house enough' so Greymatter remixed it and set the tone for what was to come. Basically we are all mates and it evolved into what it is now. Something you don't know about me. I used to be a hip hop DJ and compete in the DMC championships. And Greymatter is my brother. WOLF is extended family.
Tell us what a 'normal' week involves for you? For example, studio time, gigs, musical inspiration, hang outs etc?
By day I am an acoustic engineer, so I keep pretty busy. Evenings are split between my girlfriend, studio time, eating, sleeping, Curb Your Enthusiasm, and various other hobbies. Weekends are mainly for gigs - the last year has been pretty chocca with them so I've been very lucky to play all around Europe. Musically, I listen to a lot of soul and hip hop, but recently I've been getting into electronica, drone and some more leftfield stuff. I've got into making music for short films so have been walking around a lot with a field recorder, generally looking like a nutter. Elephant and Castle is my number 1 hang out. If I get a free Friday it's usually street fighter arcade in the Libertine followed by a Polish slap up meal in Elephant Shopping Centre, then up to the top floor to the Palace Bowl for a few frames of 10 pin bowling and a unique combination of 90s chart hits and jungle classics. Arguably the best AND cheapest night out in London.
Can you talk to us about your production techniques? We know you like to mix up lots of vocals, samples and recycling audio. It would be cool if you could pick a couple of tracks from your back catalogue to represent?
Definitely. I grew up listening to hip hop, a genre built on sampling and reviving old soul music, so it was only natural that the same styles would be used in my dance music. Machine Code took a lot of sample chopping, layering, and re-pitching of samples to get it where it ended up. The original is a 78bpm 60s soul track. It was partly an exercise in learning new production techniques. If I get stuck on a track, I sometimes pick up a high street production mag and try some of the techniques in there to get new ideas going. I love sampling slow tracks that are the other end of the house music spectrum, flipping them and turning them into something new. Having said that, my new EP will be sample free on the whole but I have recorded vocalists or taken more subtle samples and used them in the same way to create something I feel is more my own. It has been a challenge moving away from traditional samples, but it's really rewarding.
Are there new sounds you're looking to explore for this year? What direction have you given yourself for 2013?
Aside from the EP just mentioned, I am also working on a live show, which will play heavily around fusing house music and soul samples. The mix I have done is really an early sketch of the idea, but obviously It will include a lot my own tracks, parts, originals and remixes in there too. I have stopped remixing this year so there will be plenty of originals coming out. A few ideas are going back and forth with Greymatter, so we should have a collab EP out too.
What do you think makes WOLF Music stand out and bring something new to house music lovers?
As a relative newcomer to the house scene, I find this tricky. I think we bring honesty and variety in the music we make/release and the sets we play. We span different genres and tempos, which keeps it interesting for me. Coming from a turntablist background, my DJing style can be rougher than your average house or techno DJ, but I think that all adds to the feel of what we do. Ultimately it is about music that we enjoy to listen to and hope others will too. Matt and Stu are amazing curators, they have a natural ear for quality music.
We're massively looking forward to Greymatter's live show. Will we be getting the KRL live experience from you soon?
Yeah his show is wicked and gets better every time I see it. Yes my live set coming spring time - I can't wait to get it going, it's an important step for me and a new challenge. I love DJing but this is an opportunity to craft something unique.
What's your anticipation for playing in Room Three on Saturday? Pick three tracks you're looking forward to playing on the system for us.
I played Room 2 for TIEF last year and it was amazing. I'm superhyped for the Room 3 takeover. I will meet/see James Welsh play for the first time too, so the pack will grow stronger. I love WOLF showcase nights; they are the most fun I have DJing. We feed off each other. The music can take many twists and turns but always makes sense. I think generally we are geared towards having a good party and a good time rather than getting deep for 8 hours straight. Im looking forward to playing Trevino "Backtracking" (on the mix), Rootstrax "Harlequin (808 Dub)", Detroit Swindle "Guess What" and a few of my own WIP tracks. It is always good to test tracks out in the club for the first time.
What are you looking forward to most from other artists you support this year? LPs, live shows, DJ sets, festivals.. you name it.
I believe Medlar is working on an LP. Greymatter too. I have heard snippets of both and they are amazing so far. I'm looking forward to hearing more from our boys Casino Times, as they go from strength to strength every release. That is all a bit incestuous I know, but I have to support the team! I'm really looking forward to Garden Festival again this year. Last year I tagged along but this year I am official. The whole of the extended WOLF crew, family and friends are going to be there so it should be a great one. Last years' boat party was off the scale.
Tracklisting:
Maribou State & Pedestrian - Mask Tevo Howard - You Have a Way With Words Timmy Thomas - Why Can't We Live Together Manuel Tur - I'm Alive (Ugly Drums Remix) Casino Times - Heart Strings Bonar Bradberry - Loose Medlar - Can't Stop (Creative Swing Alliance Remix) Trevino - Backtracking Jordan Peak - It's Time (Argy Remix) Alex Agore - Everyday (u lift me up) T Connection - Do What You Wanna Do (KRL Quick Edit) Teddy Pendergrass - I Don't Love You Any More Outro
KRL will be DJing in Room Three this Saturday, for more info and tickets go here.