News
Mr G. On...His New Album 'State Of Flux'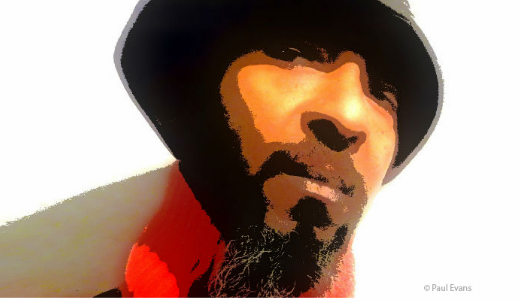 There have been some real seminal moments talking to the rapturous mix of musicians, producers, and artists that define our disco each weekend. Whether they're tough or candid or laid back and open to our questions, we look forward to our next chance encounters for all sorts of reasons and after a two year wait, we're back speaking to an all time favourite of ours - Mr G and you'll soon see why... The last time we spoke to Colin Mcbean aka Mr G, he was on the tip of releasing his sophomore album for Radio Slaves Rekids imprint, 'Still Here' which you should properly get down to if you haven't already and later followed a steady stream of funk-fuelled remixes on Bass Culture, Moods & Grooves and his own label, Phoenix G. As a special gift to us, Mr G left us totally punch drunk from his
Rum Expertise
blog takeover in a tribute to his unquenchable thirst for rum and we still feel so humbled to have Mr G share his special recipes with us. It was a simple example Mr G's originality and you can get some more original G in his follow up album out this July. Before he returns to Room One with Radio Slave man, Matt Edwards and Terry Francis next Saturday, we asked him to review a 'State Of Flux' for us and in his usual fruitful efforts, he's left us completely moved. Of course, an interview with Mr G wouldn't be complete without a brand new rum recipe, read on to get your first sip... In his own words...
An introduction to the album...
"So this album wasn't really meant to happen so quickly, see I'd just lost my spar Lex and had gone through six months of radio/chemo and became his carer, which was an honour and a life changing moment to share. Brain tumours aren't fun and trust me if you are a gifted person – its hell! So I gave everyhing up for this carer job to look after him and yes he meant that much to me. In effect, I knew I'd have to give up making music which was tough, as shit was happening for me and I just back from a great tour of Japan. After these six months which would change me forever, Lex passed on, to a brighter day without pain and I was left tired, drained and in bits. So I thought, where does all this leave me? Day by day I mourned till one day I thought "I'm going to put something down and let out the feelings I have inside. One year later "STATE OF FLUX "was written, much to my surprise and stranger still is that when I hear the tracks back, I remember why and how I felt when I wrote them, with my trusty glass of rum."
The artwork.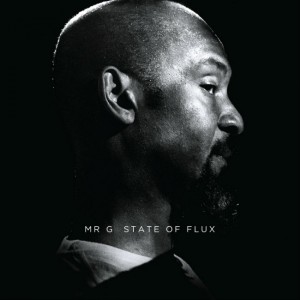 "First up the cover - I hate pictures of myself, so yeah that's me with my Mums favourite look out the corner of her eye at you, usually when something's wrong. Somehow the photographer manages to catch me giving someone that look while I was playing live. Nice Eh? Then my friend Sam (Namecreative) adds the extra juice to make it all look nice and what with Matt (Air) mastering it I think it's a great package.....no?"
Album tracks
G's Riddem
I needed to practice making beats and this was the first all powerful piece, my drums had so much more to say and how long it would take to find the groove again.
One Year Later
I was beginning to understand life has to move on, only with a different vigour, so it was time for some batty movement which means having fun. There's a big reggae bassline and message for all those who wanna hear drums loud and clear.
Clearing Space
When you die you leave a lot of stuff behind and going though Lex's things and deciding what to keep or bin was one of the hardest things ever and it's something I am still doing! There's some nasty funk mayhem and the rhythms were getting tougher and the basslines even more dubby in this track.
Pumped Up
This is pure anger! Mr Angry and boy can you feel that in this grimey, sleazy piece added by my fave rum.
Dark Thoughts (The Afterworld)
This is about all those nights spent not sleeping worrying about life and what it means, trying to change the world, wrong or right. In the middle of one dark night this happened me and my synth gets nasty and I'm trying to make it talk in the dark of night.
Remember This!
Something I've learnt is loving folk because life's way too short for some.So hence this little ditty. This is one of my faves on here, twisted yet ravey with so much drive, remember this!
Absurd Beatz No.4
The other three where trill runs! This is steam roller time.
Pause 4 Thought With You feat. Garfield King
Garfield is a friend of mine in Trinny and works in radio\media. Lex many a time would say I should do something with his great voice but I never thought anything of it till Lex passed, so I asked him to write a piece for me that I would use in some way. The words work in so many ways and grooves just tight. I love the ying and yang to this.
Mango Came Round
Time to dig even deeper and rawer, mango boy is my Carribean side, rough but not nasty but yet still a big part of who I am as an artist. This is electronic funk made to be played loud and felt, just like my pain.
Bill's January Blues
As you really get to know me you'll know my mate Bush Wacker Bill, like some ole party boy from yard. He's a dangerous brother who loves to push air, more bass more bass in the place. This just wrote itself after those sessions with the rum and Bill joining me with my anger. Needs to be heard in a good set.
New Life (E_S_P)
Some friends gave birth to lovely Evie and it made so much sense to me after death that you need new life to build and start again and I couldn't greave forever. Just writing this piece alone helped me understand...Evie's the start of that.
Mr G's House Grog
To one shaker add: 1 part lime 2 parts Colin's special sugar mix/gomme serops also good 3 parts St James or wray and nephew white rum...overproof must be overproof 4 parts water 5 cubes of ice..and shake ..serve in a long glass and top with a splash of amber rum, say an Appleton 12 year special. Now put on a Bush Wacker Bill Compilation, drink and relax then you'll understand what I'm saying? Oh and trust me, I'm so looking forward to throwing down the hard funk on the 30th with Matt Edwards.