News
NEWSFLASH: Dont Forget - A Duo of Charity Events In May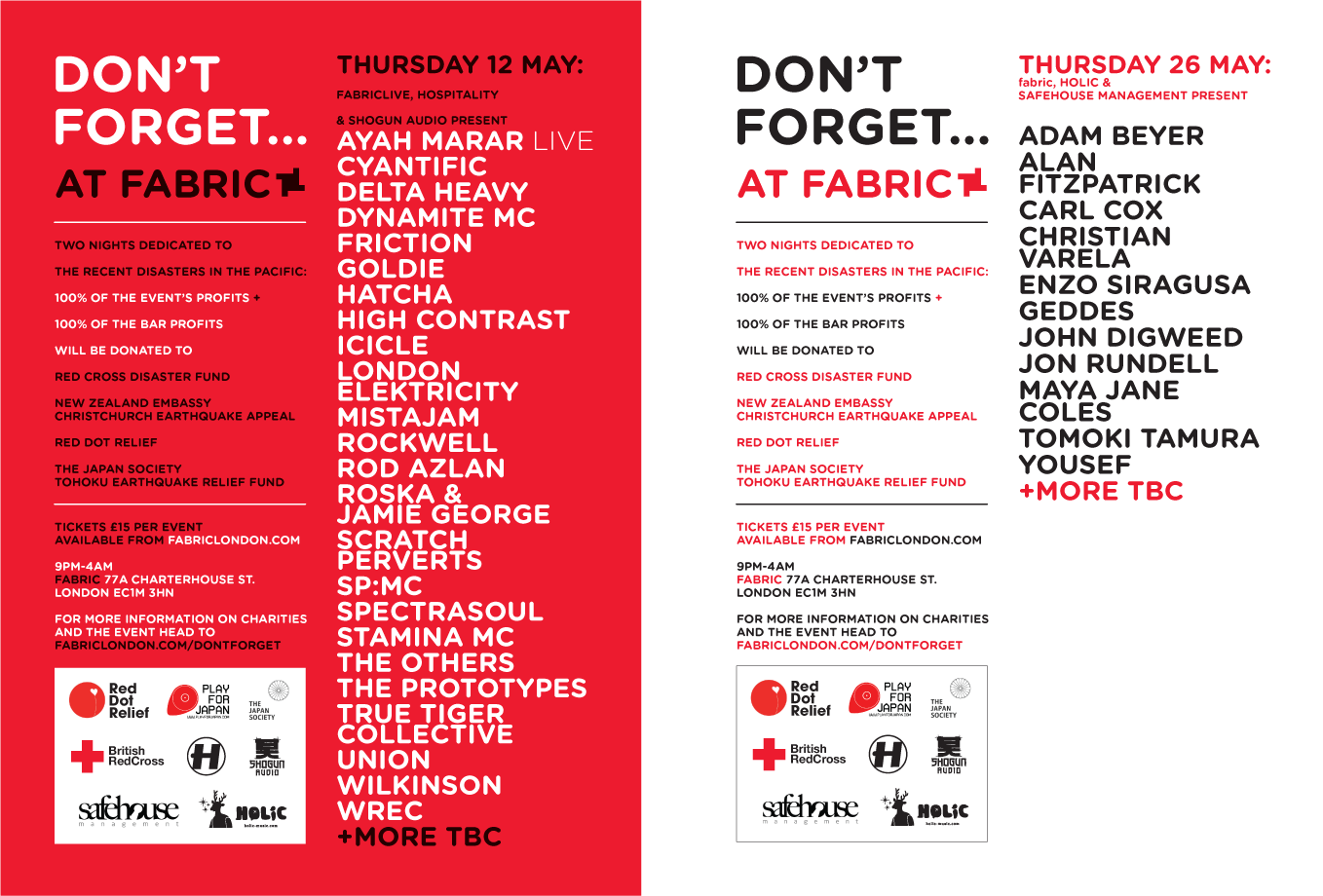 On 11th March 2011 the lay of the land was irrevocably altered. Stunned by a series of seismic judders, earthquakes and a harrowingly devastating tsunami, costal parts of North Eastern Japan were thrown into turmoil. Unfortunately it's not the first time this year that an area of the Pacific has been affected by tectonic activity with New Zealand, itself the epicenter of a massive quake, falling foul of Mother Nature in February. With the demolition and havoc present, citizens have been kept under perpetual threat from aftershocks and further tremors as newscasts and publications fill their pages with sensationalist images that, at their heart, only begin to hint at the damage caused just a few weeks ago. For two nights this May, we're presenting Don't Forget – a duo of events dedicated to maintaining awareness and raising money in aid of these recent disasters in the Pacific. Uniting under these exceptional circumstances, the drum & bass and techno communities have each stepped up to fill the three rooms of our venue with some of the biggest lineups you're likely to ever expect to see here in Farringdon. All of the artists involved have waived their fee, and we're excited to host a plethora of names that might not normally fit on our lineups. On 12th May FABRICLIVE have teamed up with Hospitality and Shogun Audio to present some of the biggest names and superior talent in bass music, running all the way through the alphabet with their choices. Then on the 26th May, fabric is collaborating with Carl Cox's Safe House Management and Holic to build a lineup comprised of the world's most highly regarded techno stalwarts with Adam Beyer, John Digweed and more joining Cox to raise money and awareness. All profits - this includes, every penny, all bar profits; everything - from the event will be donated to the following charities: Red Cross Disaster Fund New Zealand Embassy Christchurch Earthquake Appeal Red Dot Relief The Japan Society Tohoku Earthquake Relief Fund Each are doing vital work in offering immediate and sustained relief on the ground as well as making sure that the global community stay aware of the situation in the Pacific. Full lineup details after the jump.
FULL LINEUP & EVENT DETAILS:
THURSDAY 12th MAY Tickets: www.fabriclondon.com Door: 9pm – 4am Price: £15
FABRICLIVE, Hospitality & Shogun Audio present: ROOMS TBC: Ayah Marar (LIVE), Cyantific, Delta Heavy, Dynamite MC, Friction, Goldie, Hatcha, High Contrast, Icicle, London Elektricity, MistaJam, Rockwell, Rod Azlan, Roska & Jamie George, Scratch Perverts, SP:MC, Spectrasoul, Stamina MC, The Others, The Prototypes, True Tiger Collective, Union, Wilkinson, Wrec + more TBC.
THURSDAY 26TH MAY Tickets: www.fabriclondon.com Door: 9pm – 4am Price: £15
fabric, Holic & Safehouse Management present... ROOM ONE: Carl Cox, John Digweed, Christian Varela, Jon Rundell ROOM TWO: Adam Beyer, Yousef, Speedy J, Alan Fitzpatrick ROOM THREE: HOLIC... Maya Jane Coles (TBC), Geddes, Enzo Siragusa, Tomoki Tamura
For more information go to
http://www.fabriclondon.com/dontforget