News
Night Slugs: A Guide to the Night Slugs Visual Universe by Bok Bok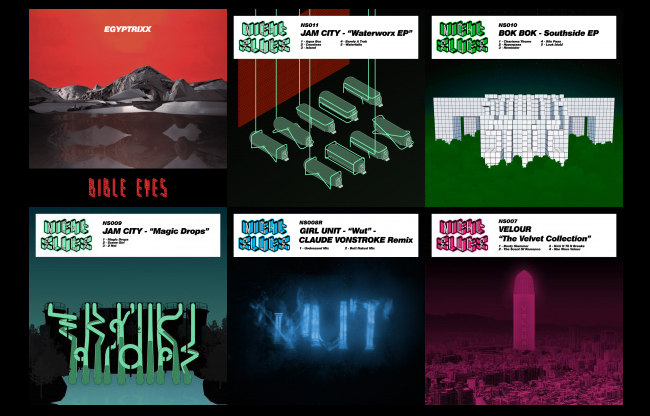 Synonymous as much with the fusion that I've been going on about over the last week, that musical merging of everything and anything that produces attitude laden, grimey assed, dancefloor slayers, Night Slugs as a label has long carved itself an iconic image. Built from grid irons and computerized outburst the artwork for everything NS related, from the club flyers to the logo and super stylistic artwork, fits a slightly pixelated futuristic theme – like the 1980's vision of the future. Whether it's the gargantuan purple washed phallus of Velour's 'Velvet Collection EP,' the intricate ancient pyramid of Egyptrixx's early EP or the digital mountain ridge that followed it for his 'Bible Eyes' album everything Night Slugs put out there is the work of one artist, Bok Bok. He's one of the main components of the label, along with L-Vis 1990 it was them who started the whole thing back when, and over the neon soaked series of designs he's carved himself a hyper-specific style. Ahead of his label's debut Room Two takeover this Friday we started prodding him little by little on the influences and style triggers for his visual work. The digitized film Tron, as Bok Bok himself admits here, is obviously a touch stone for his illustration, given the reliance on line drawing, mathematical shapes and the bold guttering of colour, but what we learned from his visual walkthrough of the Night Slugs universe is that there's a futuristic vision inherent to it as well as a penchant for neon and suave CGI honeys.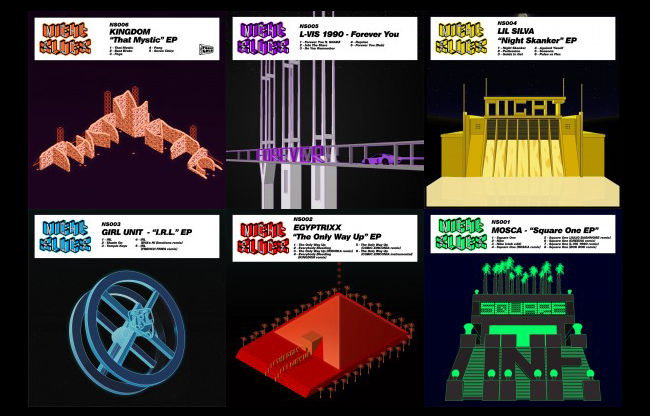 Here Bok Bok walks us through some of his favourite YouTube clips to give us an insight into what goes on behind the scenes of the label's aesthetic...
Panasonic Glider:
Bok Bok: With such analog warmth and beauty, all you really need is wireframes. A whole universe of wireframes...
The New Dance Show:
I wish our music scene had a dance show where the latest dubplates were accompanied by the coolest teens in the universe workin it for the camera.
Glowing $$$$$$ is how we get paid:
Chromosaurus:
Some things are just epic, you know?
Shirogumi Sample Reel:
If now were the 80s, maybe NS would be an animation studio for hire...
There is a whole youtube channel of these, reimagining acid house as the soundtrack to this leggy CGI heroine, a perpetual solo dancer's captivity inside a box made of Apple screensavers
Tron (1982):
OG Tron is kinda like Night Slugs the movie...
575mph launch speed:
That's fast!
Night Slugs Towers:
Powers Of Ten:
A ground-breaking bit of vintage science animation about scale that makes a comparison between the galactically huge and the microscopically small.
Big shout to Oneohtrix.
A booty crushes a cityscape...
Catch Bok Bok in Room Two this Friday night for the Night Slugs takeover as they celebrate the launch of L-Vis 1990's album, 'Neon Dreams.'