News
Audio: Benoit & Sergio fabric Promo Mix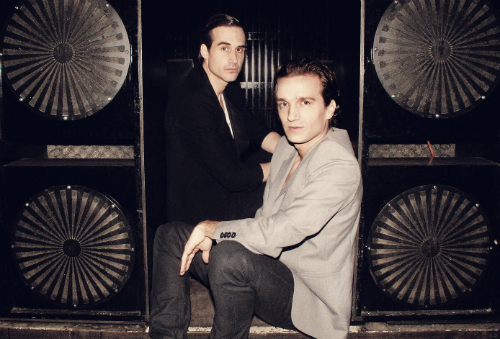 Like all great relationships, DC duo
Benoit & Sergio
didn't plan to 'go steady' together, it just kind of happened. Brought together through the magnetism of simple hooks, basslines and synths, they explore the poetic possibilities of dance tracks and tell stories that many daren't. Elevating your consciousness with their hot-button EP 'Where The Freaks Have No Name,' out on Visionquest, Seth and the gang couldn't have called upon a greater pair of techno rebels for their debut release on the label. As Benoit & Sergio ready themselves to jazz up Room One on the last Saturday of this month with an infinitely characteristic live show, we caught up with them to discuss the language of music, the Visionquest chemistry and the true narrative behind the song we all know and love them best for…
DOWNLOAD:
Benoit & Sergio fabric Promo Mix
Hi guys, where in the world are you today…?
Paris and Berlin…
Can you tell us a little about your background…How did you two meet up and decide to start producing together?
We met at a birthday party in the Spring of 2008 through a mutual friend who had the proper sense to see that we might get along well. We all went to a great little bar in DC called Napoleon, where, especially on weekends, DJs play crowd pleasers like "O.P.P." by Naughty By Nature and Kanye West music. In February of 2009, we finally entered into Benoit's studio space, which is a kind of shrine to analog synths. We never really decided to start producing. It just sort of happened--like all relationships. There was never a moment where we were like: let's go steady.
With your eclectic musical backgrounds, what do you think has most informed your individual and collective musical styles and creative process?
Benoit has always had a deep abiding interest in the nature of sound itself and he went to graduate school to explore this nature in an intense, scientific manner. This interest manifests itself in his love for the rich potential of analog magic.
Sergio has always been drawn to the poetic possibilities of language in any medium--literature, philosophy, everyday speech, pop songs.
What allows us to work well together musically, though, is that we both love the elegance and power of simple hooks, whether that hook emerges through a bassline Benoit writes or a synth line Sergio lays down. We tend toward concrete rather than abstract musical expression.
Kicking off proceedings with the Visionquest crowd this year, you saw the label really hit its stride with your debut release Where The Freaks Have No Name. Tell us about how you linked up with Seth & the gang and some of the fun you have had so far….
Sergio met Seth and Shaun at Club der Visionaire in Berlin in the Summer of 2006. Sergio hadn't started making dance music then; he was just taking a summer break from graduate school. Shaun and Seth were young--Seth was only 20. But there was already a wonderful chemistry between everyone. Within a couple months of that summer, Sergio met Ryan and Lee in Chicago and Detroit. And then Benoit met all of Visionquest at DEMF in 2009, at which point the heavens writhed about in holy fury. The whole Visionquest enterprise is just beginning, but so far the highlight has been the Visionquest Party in Miami for Ultra weekend. On fire. We're looking forward to similar things at the Visionquest party at Old Miami on Memorial Day at DEMF this year.
Your bio reads 'Benoit & Sergio don't make dance tracks—they tell stories. Can you elaborate on this and explain the story behind Where The Freaks Have No Name?
Yes, we like to make songs that sometimes seem like musical open letters: editorials narrated in the voices of unidentified, yet recognizable characters. The narrative arc of "Where The Freaks Have No Name" EP would be that the girl on the couch just gets deeper and deeper into her world as A1 becomes A2 and A2 becomes B1, the dream-inflected "Day Residue" of her afternoon.
What do you enjoy most about performing live and how would you describe your live shows?
We love that moment when people stop using their iphones to text and start using them to take pictures to post on Facebook the next day. We describe our live shows as neon light from a future bereft of time.
Are you looking forward to your debut at fabric on April 30th…How do you intend to make this a special night for London's music freaks?
It will be an honor to play there. We've been a couple times to listen to music and there's a great sound and energy. We will probably bust out a new jam or so to celebrate.
What are your big and breaking plans for 2011?
Isn't playing Room 1 at Fabric a sufficiently big plan?
Finally, can you tell us a freaky fact about yourselves?
We need to get to know each other a bit better. Maybe on our next date.