News
Audio: Charli Brix & Bassi represent Flexout Audio with a dynamic back-to-back session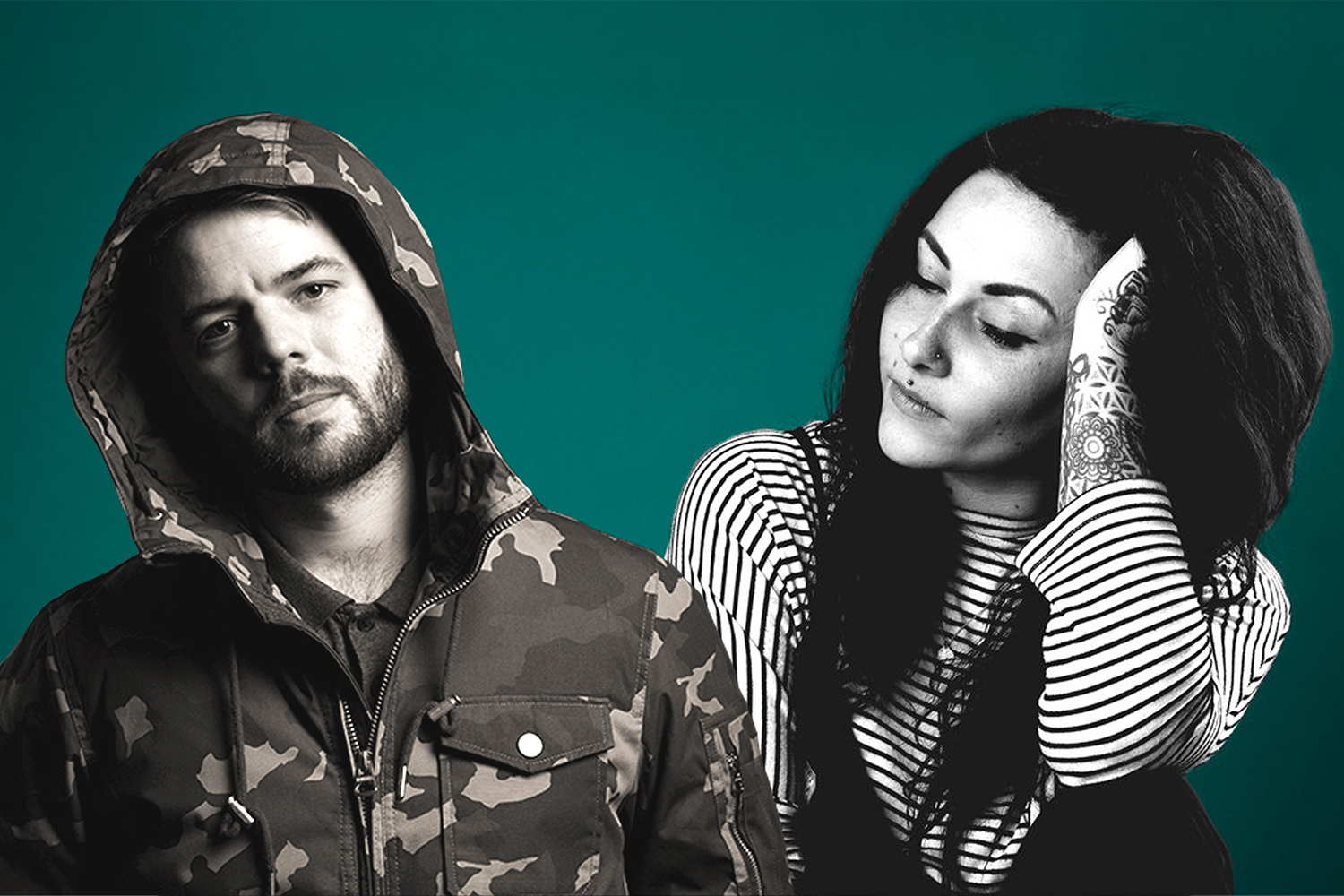 Deep, dark, techy, minimal: Flexout Audio has become renowned for a style of drum & bass that's won widespread appeal among the sound's avid followers. With a loaded roster and a knack for discovering and nurturing new talent, Flexout's records have landed in the bags of countless DJs championing the dark and minimal end of the genre. The key figure responsible for this reputation and creative direction? Tom Bassi. A sharp talent who not only manages the label, but regularly brings it as a producer and behind the decks. Just as versatile is Charli Brix, whose emotive vocals have found a place in heads and hearts across the scene, adding a superb contrast to the gritty productions she features on. From behind the DJ booth, she's equally talented. Brix and Bassi have prepared a mix for us ahead of their back-to-back set at FABRICLIVE this Friday, where Flexout take over Room Two. Like the teal branding of the label, or Brix's vocals on a grim bassline, the mix rolls with plenty of contrasting moments – the light and dark of D&B. Expect abrasive growls on the low-end, stitched together with silky reverberations of vocal and synth cuts. It all works to deliver the funky, futuristic, and dualistic sound of Flexout Audio.
Download:
Charli Brix & Bassi FABRICLIVE x Flexout Audio Promo Mix
What theme did you have in mind for this mix?
Bassi: This is basically what you get when you book Charli for a live set. I'm very aware she is the person people are coming to see and she could just play her tracks in their entirety one after the other and there would be no need for me to get involved, but because of the style of her tracks, we prefer to roll it out together. When Charli and I perform together I really do agonize over getting the right balance between playing some new music and mixing in instrumentals of her back catalogue for her to sing over.
Can you talk about how you both started collaborating with one another?
Bassi: I think it was when she joined the label a couple of years ago and I could see she was getting booked a lot as a host, where a lot of time DJs were playing what they wanted to play, and she didn't have a huge say in how the set rolled out. We both agreed that she needs to be booked as a singer first and foremost and she needs a constant DJ to perform with that she can trust will play the right tracks for it to showcase her voice and amazing song writing rather than just hyping the crowd and hosting. Charli Brix: Yeah, Tom is pretty much responsible for me transitioning from hosting to doing PAs, and it's only possible because he was happy to step up as my permanent DJ. I have great communication with him and I trust him, and that's important when you're working together. We also have similar taste in drum & bass so our styles work well together.
How would you say your styles complement each other?
Bassi: I will always mix harmonically, which is important as it means Charli can ad-lib and freestyle over a mix without it sounding shit or going into another key. Charli Brix: We try and combine the right amount of vocal tracks with rollers and heavier cuts, I don't want to sing for an hour non-stop, and I doubt anyone would want to hear that so it's good to have that balance.
Charli, you're part of a fairly small minority of artists who both DJ and sing. On top of this, you also do some editorial work. What came first in your career?
Charli Brix: Singing was where it all began for me, and I've been doing it for about 16 years in total, 8 of those at a professional level. I messed about with DJing when I was in my early 20s, my mates Max and Joe tried to teach me but I never stuck with it. Then when I got to Bristol I was taught again by the DnB Kitchen lads (big up!) and I LOVE it. The editorial stuff came about two years ago when I got contacted by In-Reach to write for them, and music provides me with only so much of an outlet so I decided to get stuck into that too.
What are you both currently listening to outside of drum & bass?
Bassi: I've been feeling the jazz and funk vibes lately and I am listening to loads of James Brown, Kamasi Washington and Herbie Hancock, that sort of stuff. Ohio Players are always a go too. Fat Freddy's Drop is one of my favourite bands and they've just put out a new LP. Other than that I always go back to 90s hip-hop. Charli Brix: I'm a huge neo-soul and R&B fan, so I listen to a lot of Hiatus Kaiyote, D'Angelo, Etta Bond and IAMDDB. Anything with Rhodes and a husky female vocal and I'm sold.
Looking back to last year, Flexout had events in a variety of cities and venues. Could you share any personal highlights from 2019?
Bassi: Our boat party at Outlook was special. I can be a bit pessimistic at times (always expecting the worst); the weather was pretty mad and I really thought they'd probably have to cancel our boat party as it was that bad, but luckily our party fell in a brief window of calm seas and sunshine between two storms either side. The energy on the boat was amazing and it was genuinely one of the best days of my life! Other than that, I really enjoyed Teifklang in Germany where I went back-to-back with SubMarine and Star Warz in Belgium where I went back-to-back with Data 3. When you get put with the right people, back-to-backs can be so incredible. I get so lost in the mix and enter an almost trance-like state. Charli Brix: I have two in particular, but they've all been pretty boombastic to be honest. The Outlook Boat party is up there with one of my favourite sets of all TIME – the crowd, the vibe, the crew, the tunes – outstanding. My favourite has to be my
Kintsugi EP
launch at The Swan. Curating that EP was such a life changing experience in so many ways, it really adds another dimension to the process when you get to translate those moments into a live setting and connect with an audience too. Playing in a city that has given me more than I ever could've imagined, with the team out in full force, performing my own music – how do you top that?
Tom, you must be stoked with how the label is progressing, taking over Room Two is massive. Can you fill us on any plans you have for 2020?
Bassi: Yeah I'm really happy with the momentum right now, I've been working on the label for nearly 10 years, and I've made so many mistakes but through that, I have learned so much along the way. I'm still so passionate about this music and it feels like this will be our best year yet in terms of output. Arkaik has nearly wrapped up his debut LP which is a project I'm so hyped about, it's a bit of a concept album but I can't reveal too much yet. Data 3 have their debut album out this year, Amoss, Bredren and Fre4knc all have more music forthcoming. I guess the biggest semi-exclusive news we can tell you though is from Charli... Charli Brix: The cat's out of the bag is it? This is the first time I get to write this – it's real! I am super stoked to say that I have started work on an album for Flexout. It's going to be multi-genre, and demos are sounding unreal so far – I'm a bit in awe if I'm honest. Some of the names involved are absolute idols, and I'm also very grateful to Tom for pushing the multi-genre flex. I'm really looking forward to showcasing the full Brix spectrum and I think a lot of people will be interested to hear exactly what I'm made of.
Do you both remember your first time at fabric?
Bassi: Yes I do, at my first time in fabric about 15 years ago, Stereo MCs were playing in Room One and then, whether it was the same night or not, I remember seeing Sub Focus in Room Two. But after that first night I came back so often all the nights kind of blur into one. Actually thinking about it, if you'd have told me I'd have my own record label and I'd be hosting Room Two, I wouldn't have believed you! Charli Brix: Oh man, my first fabric experience was not great – it's my own fault, no one else's - I was really nervous to meet Alex (Enei) for the first time, so I had a few drinks as you do… a few too many, and I wasn't allowed in (hold tight fabric security for a sterling job). The second time was meeting Alex again for the launch of the
Rituals
album, and I was on stage in the main room when he played
Just One Look
. It definitely made up for the epic fail the first time round and is a moment I'll never forget. It all kind of started on that stage for me – it was the moment I remember thinking "this is all I want to do for the rest of my life, and I'm going to figure out how to make that possible."
Could you both name someone else on the line-up you're looking forward to catching?
Bassi: If you haven't seen Philth go back-to-back with Bredren before you're in for a bit of a treat, they are so much fun to watch, and in their 90 minutes it wouldn't surprise me if they play over 200 tunes. With Sense on hosting duties for that one, it will be a really inclusive, full spectrum hour and a half of utter madness. Charli: Philth and Bredren back-to-back for sure. Philth will tell you the reaction I had to their last two back-to-backs – I didn't leave the front row for the entire 90 minutes and left looking like I'd just done an hour-long spin class. The energy they have is indescribable. I honestly cannot wait! That being said, everyone is going to shell it, so you should basically just set up camp in Room Two all night…