News
Eyeballin': Dinos Chapman's Video For 'Luv2h8' (And A Taster For His Upcoming Live AV Show)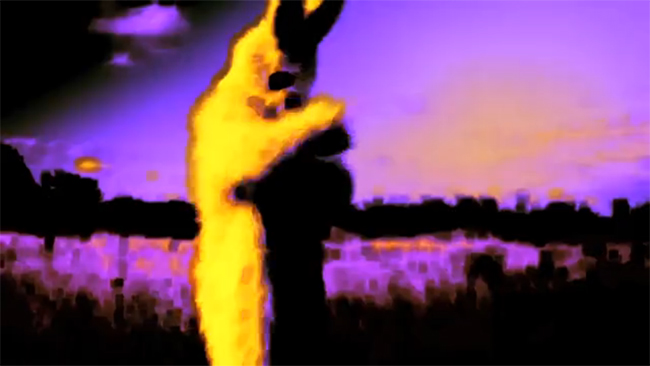 Dinos Chapman takes inspiration from acid house, psychedelia, horror movies and, quite possibly, the Duracell bunny in the music video to his new track 'Luv2h8'. Directed by Anoushka Seigler and Kamil Dymek, the nightmarish extract features on Chapman's new EP of the same name, and gives the world a taster of what to expect from his upcoming live AV show at here in Room One next Thursday, 17th October. We caught up with Chapman ahead of his live performance alongside his brother Jake's band, Heimlich, and DJs Trevor Jackson, Jarvis Cocker and Steve Mackey (Pulp) and Nick Williams from Phonica.
Was it quite liberating running around in a bunny suit?
No - it was hot and sweaty. I tripped over a lot. And I nearly set myself on fire. Apart from that, yes, very liberating.
Your first live UK performance is here at fabric, after your Sonar debut. Did you feel anxious before playing that show in a way you don't before art shows?
Yeah, a little nervous, obviously. But the machine takes over and then the show off comes out to push aside the nervous person. Remember, you can still download Trevor Jackson's remix of Dinos Chapman's Luftbobler
here
. Dinos' new Luv2H8 EP is out now via the Vinyl Factory.