News
In Conversation... With Delano Smith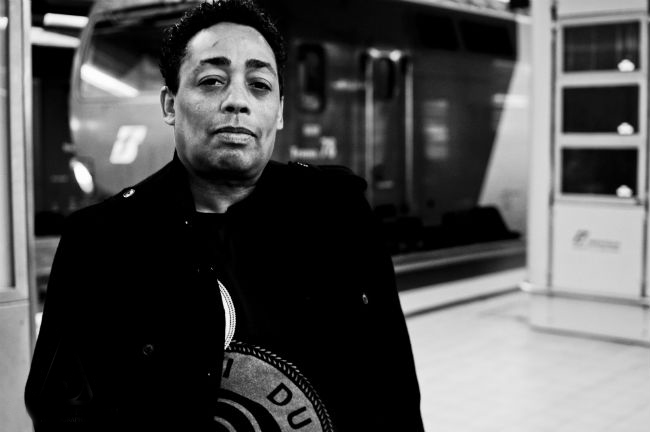 The Chicago born but Detroit raised DJ,
Delano Smith
has consistently been an earnest contributor to house music since 1978. Becoming one of the first wave of youngsters to hold residencies at Detroit's premier clubs, Delano often played alongside the Motor City's first DJ and Godfather Ken Collier. Equally as impressively, he's also a part of the legendary 'Detroit Beatdown' crew with Norm Tally and Mike "Agent X" Clark whose camaraderie we were once lucky enough to witness back in 2007 when the Detroit house masters came to Farringdon to play Room Three. When it comes to Delano's recorded output, his main body of work is housed on his own label, Mixmode Recordings and more recently via the Sushitech household who became the outlet for first ever venture into long player territory last year, dropping his debut LP, 'An Odyssey'. Just as the title of the album indicates, a journey is exactly what Delano takes you on as he holds the listener in his grasp with a rambunctious take on the deeper, housier side of Detroit. It's the true essence of a sound that we know him best for, yet he keeps the album versatile with some truly rocking techno moments attracting the likes of Carl Craig to reconstruct the track, 'Midnight Hours'. We're leaning in to hear a selection of the tracks from 'An Odyssey' when they test the levels of our Martin Audio's this Saturday during Delano's first ever live show with us next to Sushitech label owner, Yossi Amoyal, Levon Vincent and Craig Richards all in Room One. In advance of a particularly striking Saturday night in our party calendar, read on in this interview we did with Delano Smith below.
Hey Delano. How's life kicking it in Detroit?
All is well, enjoying some time off from touring and in the studio at bit. Yes, much needed time off but eager to get back out there again.
Over the past couple of years in Farringdon, we've seen you DJing in rooms One and Three. Each time has been a dense masterclass on the old vs new school sounds of Detroit to Chicago and beyond. Where does the system allow you to travel with your storied collection of music?
That's a good question, because I never know what I'm going to play at fabric. In the past I've tried blending Deep House with a bit of Disco in my sets there, but always come away feeling that I may not have played well enough.
It's your debut live show with us on Saturday. How did you approach going live as an artist? How much time do you spend perfecting on it?
Performing live is probably easier than DJ sets simply because artists have the opportunity to perform their own music, programming it can be a bit tricky as you want the set to build and make sense. Performing live also gives you an opportunity to try out new material. The approach is simple, just make sure it doesn't get boring, the challenge is keeping it interesting.
What's your gear set up?
Macbook Pro, Ableton Live, Akai APC20 and Maschine
Can we look forward to hearing tracks from your 'An Odyssey LP' on Sushitech in your live show?
Of Course! Unreleased versions of some of the tracks I wish had made the cut to the album.
At the end of March we have Kevin Saunderson, Kenny Larkin and Kyle Hall taking over Room Two. The concept of this night is to represent the old guards of Detroit techno and their role in influencing young gun techno producers such as Kyle Hall or Visionquest. It's also about how the young guys are influencing the old school.
So what are your thoughts on the concept? Who of the old guards and young guns influencing you?
I think it's an excellent concept and I'm very proud of youngsters like Kyle and Visionquest for keeping the torch lit so to speak. These days, Derrick May has proven to be the most influential to me. We had the honor of him performing at my album release party in Berlin in 2012 and he was phenomenal! During his set when he had the floor completely bananas, a guy from the crowd shouted to him in the DJ booth "Thank you Derrick"! Derrick's response was "Dont thank me, Thank the record"! That statement alone expressed his sincere respect and love for the music and producers, I will always remember and respect him for that, along with his contribution to EM. A Pioneer, one of the best DJS in the world.
Derrick May once said "Without Delano there would be no Derrick". Can you tell elaborate on his words?
Well back in the early 80's when we were kids, I was one of the first youngsters to hold residencies at some of Detroit's top clubs that played Disco and "progressive" music when mixing became popular. I don't believe Derrick was a DJ then and I remember seeing him, Jeff Mills and Eddie Fowlkes at a club called L'uomo Detroit regularly. L'uomo Detroit was a warehouse type club that catered to youngsters and Progressive music. I played there on Saturday nights along with Detroit's first DJ and Godfather Ken Collier. It's probably the club where I gained my notoriety in Detroit as everyone hung out there. I'm proud and honoured to have inspired those that now inspire me.
You just released 'Precipice EP' on Mixmode Recordings. To date, bar one release – it's all your own output on the label. Was this always your intention from the start?
Well no, it was and still is my desire to release music from a variety of artists and since we primarily ran the label on our own finances, we really couldn't afford to license music from other artists. I've been fortunate enough to find an artist from Paris "Andrade" and will be releasing his EP (MM12) on the label this spring.
What are you most looking forward to about this year?
I'm really looking forward to visiting countries I've never been to before particularly Croatia and Portugal. Since the release of the album "An Odyssey" things have really picked up. With the help of my agent Ben Start and The Secret Agency, I feel very blessed and fortunate at this point in my career.
Just for fun, can you pick one of your stand-out..?
Albums of all time?
Mr. Fingers Introduction
Moments of living in Detroit?
Performing with Ken Collier at Detroit's Studio 54
DJ/live act?
DJ: Derrick May Live: WBEEZA
Memory of your career so far?
The year 2012
Delano Smith release?
Toss up between Carl Craig's remix of "Midnight Hours" and Makam's remix of "Inspiration". Both taken from the "An Odyssey" LP.
You can also catch the likes of Marcel Dettmann and the One Records crew on 9th March. Visit our event listings for more info and tickets.