News
In Depth: Uncovering Lenzman's singular Drum & Bass sound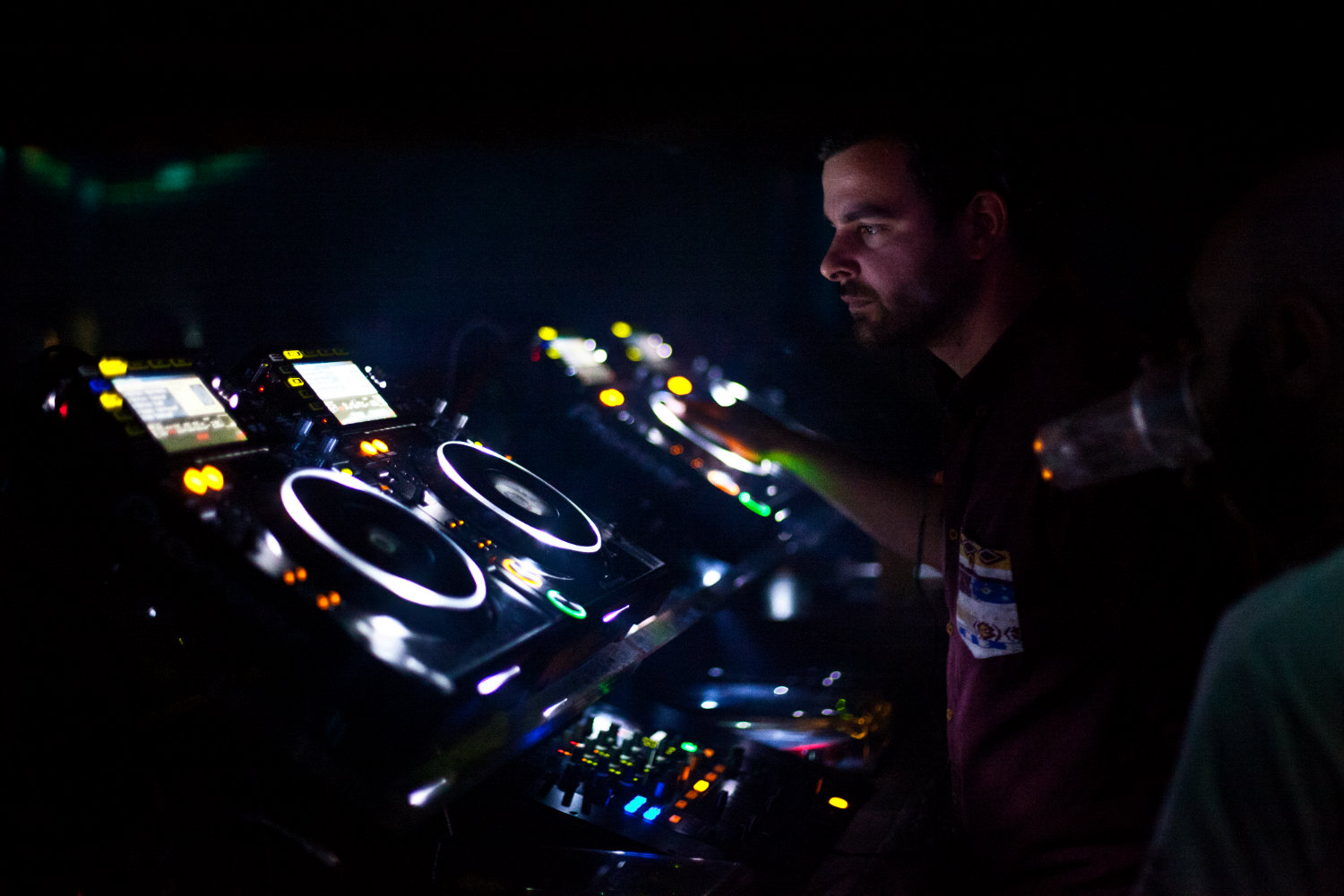 You only need to hear how Teije van Vliet got into drum & bass to understand where his distinctive style as Lenzman came from. Growing up in the 90s in the Dutch town of Leiden his first musical love was hip-hop, before friends in England introduced him to the full force of drum & bass through seminal labels like Full Cycle. By the early 2000s he'd started obsessively collecting records from the likes of Marcus Intalex and Total Science, and when he started throwing his own parties Calibre and Alix Perez were among the first guests he invited. It's not all that surprising then, that van Vliet's own music followed a similarly soul-drenched trajectory, with his earliest productions dropping on the imprints Spearhead, C.I.A. and Shogun Audio's younger offshoot, SGN:LTD. In 2010 he signed with Metalheadz alongside Riya for the melodic classic Open Page, and over the next few years a string of singles and debut LP helped make him one of the visionary label's most essential voices. In 2010 he signed with Metalheadz alongside Riya for the melodic classic Open Page, and over the next few years a string of singles and debut LP helped make him one of the visionary label's most distinctive voices. Last year he also launched his own label The North Quarter to champion the lesser known soulful side of the genre, and when we interviewed him via Skype earlier this month, it became clear that this is where he is focussing his passion on in 2017.
Is there a particular significance to your label being called The North Quarter?
I grew up in Leiden, and The North Quarter was an area within that. I was thinking of a name for the label for a while, but nothing really worked. I ended up thinking of nonsensical names that I just thought sounded cool. I got into hip-hop and drum & bass in this part of Leiden, so in a way it's where everything stems from for me.
Was there an active music scene there?
Not necessarily, I had friends heavily into hip-hop that I shared that passion with. I first got into drum & bass because I have family in England. My friends introduced me to it through tapes, and I didn't know anyone that was into it in Holland for quite a while. I didn't go to nights, I was just buying the records.
Did you go to a lot of hip-hop concerts when you got into it?
To start off with I was collecting music, but then I caught quite a few shows during the mid-90s. In the years following that I also performed in a group as a rapper. I shared hip-hop with a lot of people back then, and Dan Stezo, who I still work with now, had a lot of mixtapes. At secondary school there was a break area where we could play music, and we used to run down as soon as it was break time to force our music onto other people.
When did you start throwing your own parties?
Across a five year period I got more and more serious with DJing, I started making tapes and CDs for local clubs. I started getting gigs and convinced them to let me do a couple of nights. I then met a couple of people through the internet in the early 2000s, and we started doing drum & bass nights in Amsterdam. It was really diverse, but I was always more into the musical stuff. I later started throwing soulful drum & bass nights in Leiden, where Calibre, Alix Perez and Makoto and many others played.
Do you remember the first producer you followed closely?
I first got into drum & bass in 1996, and back then it was all about Full Cycle, Metalheadz, and people like Die, Krust and Dillinja. The next wave was Marcus Intalex, ST Files, Total Science and Calibre. From the early 2000s, I would buy literally everything they put out. You could mix it with the heavier stuff and it would still sound good. It had that funk.
Some of these guys you mention have a different sound to the one Metalheadz are commonly associated with. Did it come as a surprise for you to sign with them?
For me, they were unfairly put into that box. When I was getting into it, Metalheadz was really diverse. And just before me, Commix for example, were incredibly musical too. When it came to me signing with Headz, it did feel cool to be the only one doing 'the musical stuff' for them. It was like I was bringing a different side to the label.
How was Goldie as a label manager?
He's super passionate – that's the main thing I think of him. He's been in the scene for over 25 years, and he's still really passionate about the music. 'Passionate' is really the only way I would describe him.
Was starting The North Quarter about compiling your own music or gathering from peers?
There are some reasons I started it. I felt like there was a bit of a gap in the soulful side of things in drum & bass, so I wanted to give people I really rate a platform. I noticed there are producers out there that I really like a lot, but whom are struggling to get music out. I came up on labels like Good Looking and Creative Source – these labels aren't around any more. So it feels like there's a gap. I felt that I should put the first couple of things out, and slowly have it become more varied. Getting music that you like can also be time consuming. I kind of like the extended player format, where people put on what they want – it doesn't necessarily have to even be dance floor. If you've got big releases then you've got more space to do that.
Would you say your style of drum & bass is suited more to the club or home listening?
I'd like to think it's both. I guess certain types of drum & bass are more suited for the club, but to me it's about the subtleties and the emotions. When I DJ out, it's not necessarily about the impact, but rather the journey. I think other styles of music have that much more, with drum & bass sometimes it's missing and can focus too much on the high energy. But I feel like if you have music with emotion, and you've got someone that knows how to present that to an audience, you can have a completely different experience in the club.
How much music do you listen to outside of D&B?
A lot. I'm still really into hip-hop. I had a period where I fell out of love with it, but I'm back into it now. I make playlists on Spotify, which keeps me on my toes as I update it every week. I listen to soulful music, I don't really listen to any drum and bass when I'm not at work. I really like the new Tyler, the Creator album. I listen to a lot of underground hip-hop with no drums in too, just sample soul loops.
Do you think the drum & bass audience is more digital than vinyl?
I think the whole music industry is digital now. Even though there is a resurgence, it's more amongst the collectors than the DJs. Some people DJ with it, but they're still in the minority. A lot of people want to just support the label by collecting. For me it's the same – I only have one turntable in my living room at home, and I never DJ with records anymore. I think most people are digital now. It's just easier. It's also hard to find a working turntable in a club. You get purists, and I love it as a format, but you've got to go with the times.
Would you say the music has changed as a result of technology?
I feel there are multiple reasons. There's a lot less money in music now. There's less of a filter. All you need to make music now is a computer. Through sample packs you can start releasing music in a matter of days: in theory you can make music, learn how to do it, and have it out by the end of the week.
"I try to look for certain emotions within myself."
What are the key components of your production set up?
It's quite basic – I've got a midi keyboard, some monitors, studio headphones and a subpack, which is my favourite piece of equipment. I do some field recording, some sampling and some writing through the midi, and that's it. I want to invest in more, as sometimes it's a bit minimal, but in a way I like it like that. It forces you to be more decisive.
How important is sampling to you?
I love sampling. To me it's an art. I feel like that comes from being into hip-hop – it's massive in that. It's always been part of the music. I try to challenge myself to be creative and completely make a sample "my own". It gives your music a feel that's almost impossible to recreate playing yourself. If you do it becomes too clean. I collect from everywhere: old records, YouTube, CDs and DVDs. I also carry a voice recorder around for field recordings.
Do you think your music has its own voice?
The thing is, the way I write music, I go in the studio and try to look for certain emotions within myself. So in that respect, my music is really personal.
How do you feel when people describe your music as soulful?
It makes me happy – after all, it's the main thing I'm hoping for.