News
Introducing: Fran Hartnett & his fabric Promo Mix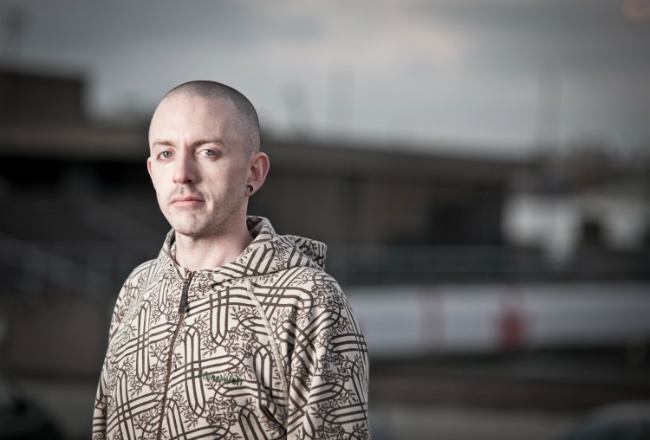 Fran Hartnett's debut performance here is long overdue. He was set to make his entrance back at the launch of Surgeon's fabric 53 CD, but due to being blessed by his second bairn, on the eve of the event, he had to drop out at the last minute. Thankfully he kept in touch with us and now we're happy to announce that he'll be taking to the stage in Room Two this weekend, almost exactly as first planned, with him joining Surgeon on the line up – he's the one to thank for first turning us onto Fran when he dropped 'It Was Written In Vapour' on his aforementioned mix when the track was still unreleased. Fran has been involved in his local music scene pretty much since the dawn of rave, playing at and hosting parties railing against Dublin's restrictive licensing laws. He decided to get down to business proper and hone his skills through an intensive MA before settling down afterwards to apply them to what is his true musical passion; techno. An all round creative type it's not been a direct course but it's the diversity of his influences and pursuits that makes him stand out as an artist. Not afraid to carve out his own beats and have that edge associated with the sound of UK labels Downwards and Counterbalance, you'll find his sets will switch in texture and in pace from wall of sound techno to naked machine funk. In something of a rare move from the Irish producer, Hartnett has prepared us a DJ mix that traverses the nuances of techno that he's particularly enjoyed over the last few years. It's been made specifically to go alongside our lengthy chat…
Download:
Fran Hartnett - fabric Promo Mix
Hi Fran how you doing? What are you up to today?
I just got home from a really long day, it started off with me being tattooed at 8.30 this morning by a colleague of mine at Zulu Tattoo in Dublin, to get the session in before the shop opened. I ended up getting home at 10pm tonight – it's an unpredictable job!
Let's start from the beginning, can you tell us how what the first music you really got into was - what were your first records?
When I was a teenager the first records I bought were from NWA and Public Enemy, then I got into stuff from Chili Peppers, Primus, Ride, Stone Roses for a while – I guess that was the first music I really got immersed in. Then I got interested in DJing thanks to my record collection I'd amassed and managed to blag a few local gigs. I remember when Primal Scream brought out Screamadelica, and I hated it because it was 'that rave shite' ... I felt betrayed cause I was already into them before that. I'd heard a couple of ravey tunes on Top Of The Pops and I was convinced that kind of thing wasn't even music at all! About 2 weeks later I changed my mind after hearing some tapes my mate's older brother had sent back from the UK. One of those tapes was Mickey Finn at Starlight 1992, and that really made an impression on me - you could hear the crowd and all whistles and screams - and I was just blown away by the seamless mixing. I'd never heard anything like it before. From then on I was obsessed with dance music, rave culture, and the art of DJing.
Were these the same that got you into techno, at what point did you get into techno and start producing?
When I first started buying proper underground dance music it was mostly UK hardcore from labels like Suburban Base, Formation and Strictly Hardcore. Then I got into trance which was a really fresh new sound at the time - more like techno in essence really. From there I just gradually got into the more techno sounding stuff – the point of no return I guess! Eventually I got a residency at a night called Genius in Dublin where I got to know some of the local techno DJs it was local here Warren Kiernan who told me to buy a computer and then he hooked me up with the software I need to start making my own music. Warren installed Soundforge, Cubase and Fruityloops on the PC and showed me the basics.
Was this something you pursued independently or are there a group of you that keep each other going, encourage each other to work and develop their music?
Back then and for a while after, it was really just on my own. Of course I had mates who would call in to check out my stuff and have a mess around with sounds, but it was nothing serious then. I was doing a lot of DJing at that time, and I really took my time with the production side of things. DJing and being involved with organising raves meant a lot of hardcore partying too so that took priority over studio time for quite a while. After I'd calmed down on the partying a bit I spent two years in a class of twenty musicians on a Music and Media Technologies course where we were constantly encouraging each other's musical activities, and learned to critique each others' work which is such an amazingly valuable exercise. I miss that. Recently though, I've moved my studio into a co-operative artist space called 'A4 Towers' sharing a room with one of my old classmates. We've been making it into a decent sounding room to work in building bass traps and the like. Together, we're a collective of artists (A4 Sounds) who aim to work together when and where we can, so I think 2012 is going to be an exciting year with plenty going on in the development of exciting new artistic ventures, music being my main focus, but I am going to be pushing myself in the visual domain also.
You're based in Dublin - how involved are you in the club and music scene over there?
I used to be much more involved, when I had the time to be. Nowadays, on top of full time work and looking after my family, the only time left over is precious studio time. I feel that I've done my bit though, for sure. I've hauled my fair share of speakers and generators around the place, done the graveyard shift on the decks plenty, and even clocked up a bit of jail cell time, all for the cause... so my conscience is clear! But I can see myself becoming more involved again, besides just pushing my music, when the time is right.
What do you think makes it special?
I'm not sure really. Like anywhere it's the people that make things special, and I know a lot of really great people who make amazing things happen here with music and visual arts. I can't say that I've experienced other scenes in different countries other than just flying visits to random clubs where it's hard to get a true sense of how those locals interact and get things done. So then I can't compare our scene here to how it is in the UK or anywhere else in Europe, because I honestly don't know! We do have some factors that make things different though, like our ridiculous opening hours. Everyone out of the club by 3am? Yes, really. Well obviously that's far from being something special, but it does mean that there are people looking at alternative options (usually at ten past three outside the club!). Occasionally there are great parties that wouldn't be happening without the early closing time. My mates who run an event organisation called Warehouse Collective have found some innovative ways to run members-only all night warehouse raves and in recent years there has been a healthy diversifying in the music selection at clubs and festivals so different music scenes are coming together, which is exciting and also essential to our healthy and growing electronic music culture.
There's a widely reported open minded and passionate approach to music over there - do you think it's affected your music it sounds like it's comfortable with its rawness and mixing broken beats in with the four four?
The thing that always excited me about techno is that futuristic inventiveness. And yeah, a certain rawness is also attractive, which comes from feeling the music as it's played. For me those qualities are essential in techno, so naturally I feel I should change things up when it comes to making or mixing music. That's what keeps things exciting! Plus I'm into a wide range of electronic music beyond dancefloor techno. I love ambient music, glitchy abstract stuff, industrial, electro, dubstep... I'm open to everything really, from hip hop to folk music, once it's original and exciting. What's important to me is not that a beat fits into some kind of genre based limitations but that there is something interesting and fresh in the music.
As far as I can tell you've only had one solo release 'It Came with Vapour EP' on Audio Assault records (this was the one Surgeon used) - is this really the case? How come there aren't more?
There have been quite a few reasons for my slow pace with releases. Without going into too much detail, it comes down to a succession of events in my life that were all really valuable –building a family, college, and most recently a new profession in tattooing. I have also spent a lot of time writing music to perform live, which does not necessarily, and rarely for me involves recording at the same time. It's true, since my first vinyl release 'Alpha', which appeared on various artists Mantrap Records 12" "Trapdoor Material Part 2" in 2009, it took me a year and a half to get a full length EP released, the 'It was Written in Vapour' EP, in Jan this year. I thought that with that one done I'd get a load more things recorded quickly after, but I had to let the tattooing take priority over the music releases for a while, because as I said this job is something I'm taking very seriously. Anyway, I'm on top of things now, and I've got heaps of new material which I'm ready to record. The studio time I've had over the past year was spent creating new tracks to play out live, so I'm eager to turn those patterns into finished recordings and put out some new records. Now that I'm set up nicely in the new studio, I can see myself firing out new releases for 2012… well that's the plan, so let's see what happens!
As a live artist - do you find it a challenge to keep each set fresh? Unlike a DJ you can't just pop a new promo in every weekend...
Yeah it takes a lot more preparation time to get a live set together. It is of course important to keep each set fresh, and definitely a challenge. Because I use hardware (Elektron Machinedrum and Monomachine) for my live sets, it's a bit of a chore to re-arrange the order of existing tracks, and position new tracks in a set (copying and pasting stuff from A4 to C9, C13 to B2 etc), but it has to be done. Anyway, it's all about making music, which is something I love doing, and there are little things along the way like the odd happy accident that comes from mixing this pattern with that, or coming up with a new approach to jamming with a certain beat - stuff like that that keeps you pushing on. And like any challenge, it's rewarding when you come away from it with something worthwhile, like a tighter and more interesting set to play out for the next gig.
You're also putting most your live sets online many live artists don't do this mainly because they're worried people are going to rip the music instead of paying for it - what's your opinion on that issue?
I guess if I played 'live' like a DJ, just mixing one of my tracks with the next, then I might be worried that people would just rip those tracks. But when I play live, because I'm really jamming and improvising with all the parts of each 'song' directly from the machines, that means the live version is different, often drastically different, than the released version of the track. Besides, when I play live it's mostly unreleased material anyway. I don't think you can stop people from cutting costs where they can, so I don't think there's any point in wasting time worrying about things like that. Real fans who can afford it will buy the music they love. I'm one of those people, I buy as much music as I can afford... ok, more than I can afford! Fans who can't afford it, perhaps that's who the free live recordings are there for. Maybe they'll buy a ticket to see me play some day, and that will be their way of supporting what I do. There are of course parts in my live sets that, when I listen back, I'd rather change, or I see room for improvement, but I feel I should put those recordings out there anyway, I'm aware of the historical value of a live recording as a fact - something that happened at a certain place in time.
You've recorded us a DJ mix here, can you tell us a bit about your track selection and any ideas that went in?
Essentially this mix brings together the different strains of techno that are doing it for me in recent times. It's mostly releases from the past year or two, but there are some older personal favourites in there as well. It's a deeper mix than I'd usually play in a club but that's what's nice about a studio mix, you can get to experiment a bit, without clearing the dance floor! There were quite a few other new records that I'd hoped to put into the mix also, but I just couldn't seem to find a spot for them that felt right. They'll find their places in something else another day I'm sure. So, I hope you enjoy the mix and I'm really looking forward to offering something quite different with my live set on the 17th!
Fran Hartnett - fabric Promo Mix
Tracklist: 1. Sandwell District - Grey Cut Out [Sandwell District] 2. O/V/R - Interior [Blueprint] 3. Jeff Mills - Keeping Of The Kept [Axis] 4. DeFeKT - We Are Automated [Take Over Recordings] 5. Reeko - Dystopic Futures [Pole Records] 6. Exium - Trashflow (Jeroen Search remix) [Nheoma] 7. Planetary Assault Systems - Beauty In The Fear [Ostgut Ton] 8. UNLTD / Israel Vines - Divide [Borrowed Language] 9. Unknown - Ugandan Speed Trials [DN] 10. Fran Hartnett - Reducer [Audio Assault] 11. Go Hiyama - Personal [Audio Assault] 12. Surgeon - Radiance [Dynamic Tension] 13. Rich Oddie - Refraction [Surface Records] 14. Abstract Division - Shifted Reality (Dasha Rush remix) [Dynamic Reflection] 15. Joton - Body Sensations (Radial remix) [New Rhythmic] 16. Mark Broom - Verve (Broom's VIP Mix) [Beardman] 17. Truncate - 21 [Truncate] 18. Oscar Mulero - Ceres [Labrynth] 19. James Ruskin - Work (Steve Rachmad remix) [Blueprint] 20. Makaton - Safety Word [Token] 21. Bas Mooy - Warsaw [Audio Assault] 22. Sunil Sharpe - Let Christy Take It [Black Sun Records] 23. Forward Strategy Group - Tayo Olowu [Perc Trax] 24. Function - Montage [Infrastructure New York] 25. Perc - Start Chopping (Tommy Four Seven remix) [Perc Trax] 26. Ancient Methods - Second Method (B2) [Ancient Methods] 27. Deuce - Twerp Wiz [Ostgut Ton] 28. Stanislav Tolkachev - Yes, Today [Pohjola] 29. Inigo Kennedy - Filaments [Token] Photograph by
Don Horne