News
Introducing...Jenifa Mayanja and her fabric Promo Mix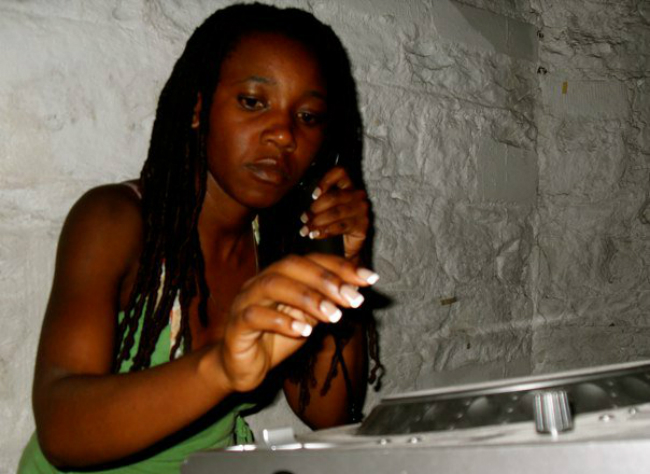 It's no secret that house music has moved back into focus over the last couple of years but it's always been there for the long standing protagonists of the scene.
Jenifa Mayanja
is one such long stayer in the underground deep house world; from her Bumako parties in NYC, DJ spots at the city's most iconic events including Body & Soul to launching her own label. The Ugandan born producer pulled out the stops when it came to the release of her LP 'Woman Walking in the Shadows'. This release saw her get her own breakthrough moment, seeing features garnered from kin she's met along the way Jenifa achieved a self-made success only she can take credit for. By self-made I mean, self-distributed, self-booked, self-PR'd - a response to some of the frustrations she'd found in her experience of the vulgar (yet necessary) side that artists have to deal with to get themselves heard. We're just glad it came off for her and look forward to welcoming her back to Room Three this weekend where she'll be playing under the label banner 'Underground Quality' – the imprint of her husband Edward "Jus-Ed" McKeithen. We got to speak to Jenifa about these many challenges as well as being treated to an audio snapshot of her organic and soulful approach to house music with plenty of vibe.
DOWNLOAD:
Jenifa Mayanja fabric Promo Mix
Can you tell us how you started getting involved in music?
I got started with music from a listening standpoint from an early age in our household, then through choral singing in school, then going to gay clubs a lot in the Midwest which were the only places playing any kind of dance music no matter how cheesy, of course I was underage. Fast forward to college in the 80s where I was introduced to acid house which led me to start DJing in the 90s and eventually I started doing music production with others around the late 90s and then after a break started Bumako Recordings around 2007.
What motivated you to start your label Bumako Recordings?
I started Bumako Recordings because I had exhausted all the normal artistic paths of collaborating with others, waiting for record deals that never happened, and a lack of belief by others of my artistic viewpoint so naturally because I am not the kind of person to accept no as an answer, I had to create my own platform.. I started it simply at first to just get my music ideas out without being dictated to by others, then over the course of time now I am expanding the platform to be more inclusive of other genre-bending producers, especially other women. Also its important to note as a point of interest that the groundwork for Bumako Recordings was already being formed with the Bumako parties which I was doing with a partner Mookie in private spaces in New York. The party which where I was also the resident DJ along with a musical partner Andi Hanley was a free spirited, music lovers dream of a party..
You and your husband both run your own labels independently – why did you decide to start a label together?
For some time many people we knew would always ask us if we worked together and if not, why? Until recently we did run our respective labels Underground Quality and Bumako recordings independently which was needed because we had to build our sound and we had different agendas. We now are actually business partners so for the most part with the exception of musical content we do run our labels together. And we did that because we had both reached the end of the road with working with distributors for different reasons and we had an opportunity to offer our content more directly to retailers and also distributors that were willing to meet our terms..however we still had a desire to collaborate musically together which is why we had to start something fresh, which is EDJ records and we go under the name "Ed & Jen putting limited 12" releases and CDs out. We have already released "Dark Matter" EP EDJ 001, "Left Groove" a full-length cd EDJ 002 and EDJ 003 "Karma Loves U" 12" vinyl which should be hitting stores in late May. We also are DJing together as "Ed & Jen" something we have wanted to do for a long time because we are well, an unforgettable combo! Plus we get to be together on the road which is always a bonus.
Do you think it's a good thing working with someone so close to you? Some people advise against it, but there are some really good musical partnerships that are between real life partners too...
It's important that the personal relationship is strong of course, because you have to be able to figure out a way to separate your business from your personal which I have to admit is not always easy. But not to generalize for us it works! We have been together 9 years going on 10 so we know each other pretty well I would say.. We are opposites in a lot of areas as human beings but we love each other dearly and so we make it work.. It doesn't mean we don't fuss with each other, and disagree but we have the same goals which is to continue making great music while providing a stable financial base for our family. Also for our joint label EDJ Records as well as "Ed & Jen" our DJ unit we have not yet placed too many boundaries on what the sound has to be like so it makes us flow easier because up to now we have been each accustomed to doing our own thing. Our business relationship is comfortable as we well aware and respectful of each other quirks and ways of doing business. Most important no matter what happens our relationship and our family comes first so we can continue to love each other at the end of the day and night wink wink...
What would you say is different in your production on EDJ and Bumako Recordings?
The main difference with my musical output on EDJ versus Bumako is that I work to be less mysterious musically on EDJ content so I would say it is a conscious effort to be more upfront. With Bumako recordings I am very self critical and want to represent a more wider landscape of genre bending music which may not necessarily sound upfront as far as DJs are concerned. But I always make my music work when I DJ so I guess it depends on the DJ. Also I have to get Ed's feedback as far the music content on the EDJ records which I am not a fan of feedback because I take it personally so that makes me more self-conscious which reflects in my production process.
What other labels do you work with if any, and what is important to you when selecting labels to publish your work on?
On a regular basis I am working on a new label and production/dj collective called "Supreme Scyence which is composed of myself, LadyBlacktronika and Dakini 9 . We just put out our first release available on Juno Download, "Process Evolution" EP and we are working on vinyl releases which will feature a guest woman producer. And my other main passion is of course the EDJ label which is building. Besides that I work with people I admire I have done in the recent past done remixes for one of my favorite labels Ethereal Sounds Anton Zap's label, Altered mood recordings, and lately working with new imprints like Abstract Theory a digital label from Italy on which I recently released an EP called "Jagged Edges" and I also just go down on a remix for a new label from France called Street Knowledge. I have ongoing collaborations with a stable of producers that I am building long term working relationships like Isoul8 aka Volcov my good friend from Neroli, another dope producer Marco Nega, Dubbyman and building a stable of vocalists like Alison Marks, spoken word artist Anastasia and definitely pushing the vocal thing hard this year. When I am getting down with any label other than mine it's important that they have similar ideals to mine in terms of originality, creative freedom and musical diversity.
What's been the hardest thing about running your own label – I know you do your own distribution too – has that paid off for you?
For me personally running Bumako Recordings the hardest thing is doing all the little things that keep a label chugging along, like e-mails, Facebook posts, Twitter, generating sales, marketing, promotions, making the music, press releases, follow-ups. It just goes on and now I also manage my own DJ bookings and I don't employ anyone else, so it is a tremendous amount of work for me especially since I am always pulled by my family, talking care of the little ones. The self-distribution has definitely paid off for my Bumako because it has fully put the back the controls in my hands about releases and pressing numbers and it also been a boom for my back catalog which is now in constant motion which is always fantastic!
You've been heavily involved in house music for years now – why do you think there's been a surge in interest in what you do over the last 18 months?
Well I guess sooner or later the gods of the underground house scene smiled on me hahaha, but you never know with these things why of all a sudden everyone collectively notices your work. The main thing is to be prepared when they do so you can let them of all the other dope stuff they missed while they were sleeping. But also I was determined more than ever to make sure that when my CD album 'Woman Walking in The Shadows' and the 'remix album' the vinyl came out that I would put all pride aside and work my butt off to send out the promos, use all the leverage I had, typed all press releases my fingers could type because I felt this record really deserved the recognition. And thankfully the stars aligned and there was a good reaction, Thilo at Groove magazine was very supportive with reviews, licensing and just enthusiasm, Christine Kakaire did a really nice feature on me for RA, Jane Fitz did an interview on me for Faith magazine and Arise magazine, I mean a lot of people came out in support of me and all those factors helped a great deal finally break me through in the last 18 months.. and of course my most powerful ally is my husband Jus-Ed who has been a huge support, throwing my music into a lot of people's faces in his own congenial way but at least giving me access to people that otherwise wouldn't give my music a second look.
What's been your career highlight to date?
From a music production standpoint my highlight would be making both albums, 'Stream of Conscious' and 'Woman Walking in The Shadows', I started always with the is dream of just making albums so I am always impressed with myself when I can pull it off. And I think pretty much every remix I have done starting with the Fred P's 'God's Promise' remix I did I am always proud that I am able to do something different and good from the original composition. From a DJ standpoint: probably the biggest highlight was the first time I played at Body and Soul when it was still at Club Vinyl way back when it was in its early stages in the 90s. Being that many wanted that opportunity and I was chosen for it was unbelievable at that stage in my career. Also when I played the first time at Panorama Bar I felt so humbled to be in that position, my knees were shaking but I rocked it.
What're you most looking forward to over the next year?
I am most looking forward to seeing our joint label EDJ records putting out more dope releases this year and our EDJ brand and sound deepening and becoming even more popular. Also most of all "Ed & Jen DJing more together and maybe in the future having the ability to include live shows as part of our sets. And also excited to be getting out there especially for people that are not aware of my dj skill set and meeting the people that have supported Bumako recordings over the years, making new fans, more gigs, more releases and expanding the music vision of Bumako recordings to include even more vocalists, spoken word and other ill s**t. And believe it or not making another album...just more more more..