News
Introducing: Mickey Moonlight & his Promo Mix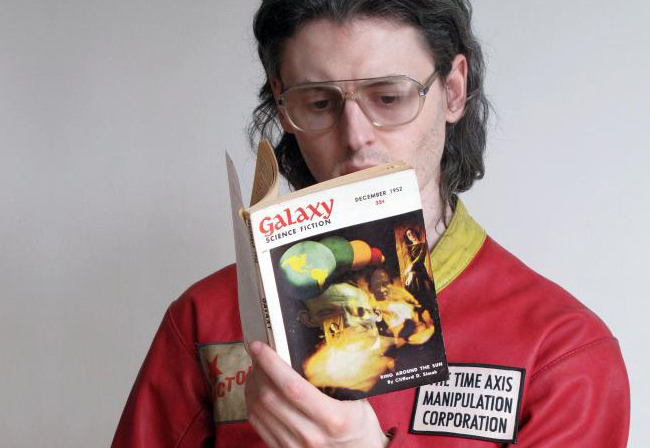 Micky Moonlight
has been a key DJ for years now, from sets at Optimo to the infamous Trash nights of Erol Alkan's earlier legacy - he's charmed you all with his dance floor selections. But now it's time for him to shine as a producer as he releases his debut long player on Ed Banger, along with the help of some very talented friends. Though it was recorded in London, Mickey Moonlight's (aka Mike Silver) debut album sounds more like it was recorded on a tropical oasis in the year 3000 – (just like this special mix tape we have to present to you). Ahead of his appearance in Room One this Friday for Jack Beats Love alongside fellow Ed Banger Busy P, Riton, Martelo, 12th Planet and of course their hosts Jack Beats, we caught up with the sci-fi bending producer to find out the story behind the album, contributors and what's in store for this Friday.
Download:
Mickey Moonlight - Promo Mixtape (Part 2)
So, who are you, the man behind Mickey Moonlight?
At night I'm Mickey Moonlight and by day I'm Mike Silver…
This is your debut album, following a pair of EPs released on Ed Banger but you've got many more production credits to your name… Can you tell us about your musical history?
The 1st record I ever bought was Adam and The Ants, the most recent was 'Bangs & Works Vol.2'. I've played the guitar (badly) since I was 14. I co-produced Zongmin's acclaimed debut album (XL), released a few things as Midnight MIke and performed live at parties like Trash in London, Optimo (Glasgow), Lux (NYC), Le Pulp (Paris).
The earlier EPs and album features many friendly faces.How did they all come to be part of the project?
All the guests are friends or we connected in synchronicitous moments and it was obvious I should invite them to sing and collaborate on a song. It's really fun to work with other people.
Is there a dream collaborator out there you've not worked with yet?
I'm really happy. I'm already in my dream. Jon Hassell is probably my favourite ever musician, so maybe working with him would be a dream collaboration. I'd really, really love to record a song with Kool Keith, to me he's
THE
greatest MC ever. He shames all those dull, unimaginative big names. But I guess if you're dreaming there are no limits.... Julie London on vocals and King David on Harp!
Did this album take a long time to make? Catching people when they were in town to go into the studio, files passed over FTPs? What's it's story?
The songs were all recorded pretty quickly, but lots of time passed between recording different songs. The 1st was recorded in 2008. There's lots of guests on the album, some were files passed over the internet, but most were recorded here in London.
You've described the album as Science-Fiction Exotica. What are your favourite science fiction moments?
To me the album is like a collection of images, fragments of stories. There's tales of biotech companies, artificial lovers, voluntary euthanasia, cosmic ambivalence, Discordian folk songs, time travel field recordings and psychedelic pattern-music. My biggest influences in making the album are Science Fiction authors. As for favourite Science Fiction moments a few that spring to mind.... Kilgore Trout crying out to Kurt Vonnegut in the voice of Vonnegut's father: "Make me young, make me young, make me young!" Nazi Zombies and John Dillinger in 'The Illuminatus Trilogy'. The tropical, flooded London of Ballard's 'Drowned World'. Daniel having sex with a female version of himself in a parallel universe, from David Gerrold's 'The Man Who Folded Himself'. Jane Fonda's zero-gravity striptease in Barbarella!
It's being released on Ed Banger like your previous EPs - how did you come to work with them and what's special about the label to you?
It means so much to me working with the label. Amandine and Pedro really are the nicest people. It's a pleasure to deal with them and that's more important than anything. Of course it's lucky that they also do an amazing job! There's nowhere I'd rather be. I meet Pedro a while ago. He released a single by my best friend Susumu Mukai (aka Zongamin). But it was a mutual friend (Dave from Soulwax) who suggested the hook-up between Ed Banger and myself.
Please can you tell us about this mix tape you've kindly recorded for the blog?
It's kind of sets a context for my album and some of the music is the type of thing that has inspired me. It's totally for home listening and not at all how I play in a club. My album is also very much for home listening. It's definitely not the type of music I play in a club. You can hear a recent club mix of mine
here
. I like making mix-tapes that are for home listening and having a chance to do something completely different from what I do in a club.