News
NEWSFLASH: Apollonia to Mix fabric 70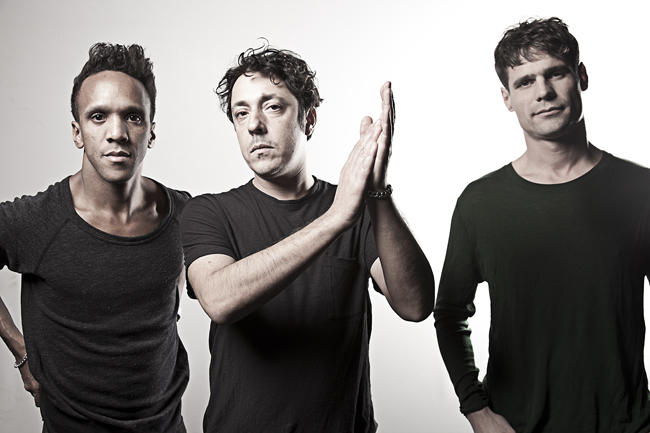 Apollonia – Parisian trio, Dan Ghenacia, Dyed Soundorom and Shonky - mix the next instalment of the acclaimed fabric compilation series: fabric 70. Vibe brothers in the studio, DJ booth and life, Apollonia have cultivated a creative synergy that sees them connect and work as one artist. Seamlessly weaving through house and techno, their sets are a hypnotic experience; three different minds, bodies and souls intuitively working together, focusing on their shared musical passion: grooves to make your body move.
"We don't play like a usual back to back - where you can recognize who is playing what - we have a unity, much like that of a band… There is a point when we have played together after three or four hours and we no longer feel the time… it's almost meditation."
What they describe as a meeting of "black music and white soul" (inspired by the pioneering work of the trio's hero, Prince), they have showcased their electric back2back2back sessions, where they play at least five hours or more, at Panorama Bar in Berlin, DC10 in Ibiza and of course, fabric in London. Apollonia formed officially in 2012, although the trio have been friends and working together for more than a decade. Originally meeting at Ghenacia's revered Parisian Sunday morning afterhours, 'Kwality', held on a boat in Paris, Dyed and Shonky released their first EPs on Ghenacia's former imprint, Freak n' Chic, a label which encouraged new talent to grow and reach from the echelons on France. After the label's demise in 2011, the logical progression for the Parisians was to start a joint musical venture, and here Apollonia began - both the band aspect and as a record label, to release their own productions and those of carefully chosen contemporaries. It's an unmistakable energy Apollonia have brought to creating fabric 70, which was completed over an intense six-week lock down period in the trio's Berlin studio earlier this year.
"The mix is a reflection about of our culture and how we play, and it's a really good mirror of who we are and what we do, mixing the old school stuff that fits in really well at the moment, with some brand new music."
The mix includes fresh cuts from the likes of The Mole on his new Maybe Tomorrow imprint, Dyed Soundorom's buzzing re-rub of Daze Maxim's 'Farbfilm' (a recent addition to the Apollonia catalogue), two new Apollonia releases from the boys themselves, made especially for the mix – 'Trinidad' - smooth deep house that incorporates the male spoken word and 'Visa Americain', a swirling, trippy excursion packed full of multi-layered drums and fizzy sonic effects, both due out on Apollonia later this year. Reaching back to the 1990s, the atmospheric pads of Nail's 'I've Been There' is included from 1997, the uplifting summery grooves of Mood 2 Swing feat. John Ciafone 'Ohh' from 1996 and Callisto's 'Need Ur Love' – a track close to the hearts of Dan, Dyed and Shonky - concludes the mix, standing as a solemn homage to the DJ/producer who sadly recently passed.
"Released in 1997, 'Need Ur Love' is a track Dan used to play a lot at the Kwality parties back when we all met. We almost forgot about it… but when we heard the sad news about Callisto we were reminded of it again – naturally we wanted to give a tribute."
It proved a challenge to license, but they finally pulled it off, and what's more hold plans to re-press it on the label later this year. True to Apollonia form, fabric 70 is also a work with its share of twists and turns – the deftly talented trio knowing pleasure comes from contrasts and thus the energy levels are constantly manipulated up and down with masterful precision – the energy and intensity of their live performances injected into the mix. Always focused on the groove…
fabric 70: Apollonia will be released on 17th June
You can pre-order your copy :here.