News
"Things are healthy out there" In Conversation With Neville Watson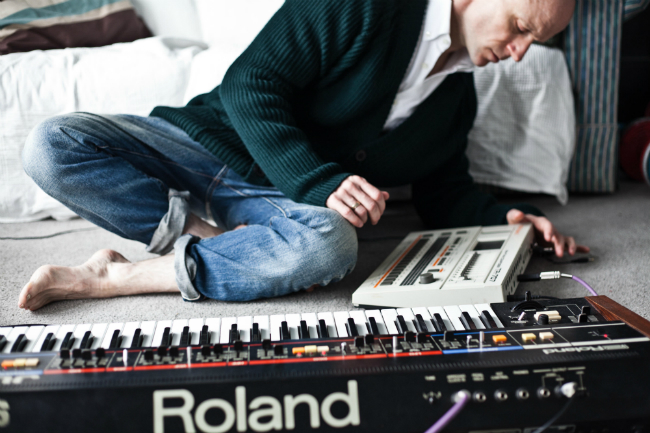 Talking with
Neville Watson
about the parties he's found himself playing at and his pocket of musical existence seems like a little celebration of all that's great and good about parties today considering that much of the conversation comes down to community spirit and that rare role and relationship with the resident DJ. There's so much big name billing flying around the place these days (there are often of course line ups that are simply mind blowing to the heads) that the art of being a resident DJ seems to be a skill held by a sacred few. You really can count those parties where this is still evident with the likes of Andy Blake and Joe Hart at their infamously raw and raucous World Unknown shindigs, Dominic Cappello the weekly resident at Sub Club's 20 year old Subculture night and then there are, of course our, own fabric staples, Terry Francis and Craig Richards. In our interview with the acid house bastion, Watson makes a revealing observation about why taking on that role as a resident DJ is so important and rewarding: you get a level of engagement with your crowd that is just not possible doing guest sets and also scope to play around with the depth you can achieve with your record selections. Watson has of course got previous in this field considering his dedicated resident role at Reading based Checkpoint Charlie. A product of the acid house era, Neville became so involved in the night that over the years he helped shape and mould the sound, so much so that the dedicated crowd came down month on month to partake simply in the resident's definition of the party. We've got our own history with that party considering that Craig Richards was often a guest and so now it seems fitting that we exchange the courtesy once again and welcome Neville Watson, who's hot on the heels of his latest LP released on Crème Organisation, to come and share his expansive record collection with us in Room One next Saturday.
Download:
Neville Watson fabric Promo Mix
It'd be good to start out by talking about your musical roots, wasn't punk your first scene that you became immersed in?
I was way too young to become immersed in Punk but it was pretty all encompassing as my brother and his friends were really into it, and unlike now with a lot of underground music it also had a strong presence in the pop charts. It was hard to ignore. The first music I got into and that really effected me as a little kid was Rockabilly, then I got heavily into Ska and Reggae and I still love all those styles of music.
Then of course acid house came along, how much did the birth of rave and acid house parties have an influence on you?
It had a huge impact on me, without a doubt I wouldn't be doing what I am now without it. Initially I was really resistant to it though until I actually went to a party, and that blew me out of the water. Not only me either, but an entire generation and being part of something like that on such a monumental scale was life changing. Luckily it's pretty well documented in Raving '89, the book I released with my brother, Gavin.
How did you move from being a raver to being a DJ and producer?
Well I was already DJ'ing, playing Reggae and Ska, so the transition was fairly natural. Although it took a few years as I was too busy just enjoying partying. The move to producing never really felt like a move as such, it was always something I knew I would end up doing. I always had ideas for tracks going around in my head.
You were resident at Checkpoint Charlie – a pretty unique party in Reading – I actually was a regular there until it sadly ceased operations. What're your memories of that party like?
I have nothing but wonderful memories of Checkpoint Charlie, both as a punter and later a resident there. From foam parties that went awry to insane coach trips to Paris and Amsterdam, with fake dancing coppers thrown in along the way. It is hands down the best club I have ever played at or been to and I consider myself blessed to ever have been a part of it at all.
There's also the idea of you being a monthly resident, alongside Mat Carter and all guests were kept secret until punters actually turned up. What did you enjoy about your role shaping the CC sound?
Mat and I were the second wave of residents following on from the original trio of Pierre, Stripe and Richard Ford. Being a resident really allows you to get to know the crowd and try out new music on them, as I'm sure Craig and Terry will tell you. Shopping for music and knowing when you buy a new track that your crowd are going to go loopy when you drop it is really exciting and not something you can be so sure of with less obvious tracks when you're guesting at clubs. We would call certain tunes Net Pullers due to the fact that the crowd would start tugging on the camouflage net that was stretched out above their heads. It was also an honour to share the duties with Mat, who is such a fantastic selector. He really kept me on my toes.
Is there anything like that now? It seems that this kind of community spirit when it comes to club nights is hard to come by these days. What's your take on the 'state of the club scene' today?
The only place that comes close to that rabid, manic energy is the Sub Club in Glasgow. I was worried I might not make it out alive if I didn't play one last tune. Not only that though, also the crowd really love Domenic & Harri and are just as excited at the prospect of a resident's night as they are a big name guest. Maybe more so. But the community spirit is still out there, the regulars at Berghain and Panorama Bar consider that place a home from home and that is pretty special for such a huge place. It's also building again on a smaller level with parties like World Unknown and the always excellent Thunder. If you're vigilant and do it for the right reasons, have great residents then good people will come to your parties. Things are healthy out there.
In more recent days you've released your latest LP for Crème Organisation. What an album – can you tell us a bit about how that came together for you?
It's a love letter to my wife. I'd always planned to get around to making an album but I was always too busy with single releases in the past. A UK label had approached me to record an album for them but then it all went silent, I was playing in Holland with Tlr, the boss of Crème, and mentioned the album in passing and in a heartbeat he said, "I'll release it". I bit his hand off. It was a great experience and the label were really hands off, which is pretty unusual. Once I'd finished it all Tlr said was, "do you have two more tracks?" None of this constant asking you to change things, which is really wearing and just saps the creative process.
Do you have many more releases planned to come up?
Yep, always working on new material. I have a release slated for the autumn on Benji Semtek's Don't Be Afraid label and a remix for Luke Solomon's Classic around the same time. My side project with Nick Woolfson, Red 7, has a record out now on Germany's Housewax imprint and I'll be getting back in the studio with my brother in arms, KiNK in September to work on our album. Also a few secret things that will see the light of day very soon.
And you'll be joining us in Room One very soon what do you have planned for your set?
It's a massive privilege to get to play at Fabric, and I have to say I'm really excited. I don't believe there's a DJ out there that wouldn't love to play there, especially Room One. With that in mind I'll be doing what I always do and that's endeavour to bring the highest quality House and Techno to the party! Might even dig out a few Checkpoint Classics.