News
10 Years Of fabric Records - Staff Picks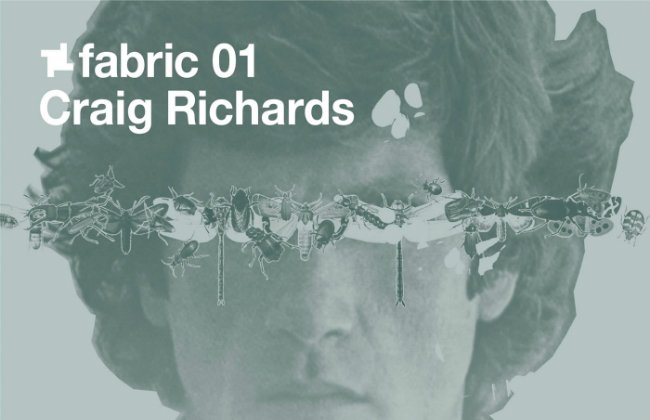 With a gift for making noise, this week fabric HQ has even more celebrations to shout about. With the fading echoes of the monumental twelfth birthday just a few weeks behind us, this week we're marking the 10th anniversary of the label's first ever release. Our first release was fabric01: Craig Richards, released on 5th November 2001 and ten years on we have released a crush of mix compilations each month, with our 120th release in our series,
FABRICLIVE 60: Brodinski
just about to hit the shelves. In addition to our compilation series, we've released albums, mixes and EPs from the likes of Radioactive Man, Scratch Perverts, Caspa, Kevin Saunderson and Buraka Som Sistema. Whether it's house, techno, drum & bass, dubstep, hip-hop, bass or all, it's in the future, but also the historic and well-kept past that keeps our fabric collection uncluttered and incomparably colourful. So to celebrate, this week on the blog, we'll be looking back at many magnificent moments in the labels history, starting with the hardest task of all: asking our staff to pick just one of their stand-out releases from one hell of a back catalogue...
Leo Belchetz (Label)
fabric 11: Swayzak
Working at the label, every single release in our catalogue has a place in my heart and I cannot pick an outright favourite! Before working at fabric, I always argued that the opening 5-6 tracks of Doc Martin's mix was the greatest beginning to any house mix I'd heard. But since working here and getting to know every single mix very well, I'd say one I constantly return to is fabric 11: Swayzak. It strikes, for me, the perfect balance of underground house and techno (Konrad Black, MMM) with electronic pop (Thomas Dolby, Felix Da Housecat) – whilst in the Herbert mix of Louie Austen and the DFA remix of Metro Area, it includes two of the finest tracks ever to make it inside our little tin cases!
Shaun Roberts ( Promotions Manager)
FABRICLIVE 09: Jacques Lu Cont
FABRICLIVE 09: Jacques Lu Cont holds a very fond place in my heart. It still sounds fresh today because it has a really strong party spirit to it. It has a great range of sounds presented in a really interesting way. I'm really looking forward to Lu Cont coming back for the first time in ages next weekend. I still occasionally hear this being played in shops and a lot of DJs do credit it with making them up their game a little when it came out. I have great memories of taking this to Ibiza in 2003. It got a lot of play during that holiday. Top track of the mix? Probably 'Automatic' by Zoot Woman for me but it's a tough call.
Oli Marlow (Press)
fabric 45: Omar S
I'd pick Pearson Sound's FABRICLIVE 56 if it wasn't the obvious choice for me, with me being 'that guy' who has shadowed his career ever since the first time I phoned him to ask him about a remix which never materialised, back when he just put out a record on 2nd Drop Records. But the CD I had most fun working on and ingesting was probably fabric 45: Omar S… as unpredictable and unforgiving as the man himself, that was a hell of a 6 week period for me and it's still one hell of an uncompromisingly perfect mix to this day.
Scott Paterson (Promotions Manager)
fabric 19: Andrew Weatherall
I once went on a 3 day bender and listened to the Weatherall CD for probably a day and a half on repeat. Woke up after it, being spooned by a fella called Ozie as he whispered 'oh baby' into my ear.
Kirsti Weir (Press)
fabric 60: Dave Clarke
I'm going to say Dave Clarke, because as a DJ he has made it his duty to find and present unknown and raw underground sounds and that's something I really admire. I love that he used the space on a fabric CD to experiment and show off 'real' electro from the UK - something he's an expert on and we both share a passion for. I remember Sync24's Rock Non Stop come in when it was receiving its first airing in the office and feeling it, then it twigged who and what it was, it's not often you hear that sound in the mix but it's magic when you do.
Jo Paul (Accounts)
FABRICLIVE 38: Craze
My fave album has to be DJ Craze, it takes me back to the good old days… watching video tapes (remember them?!) of the DMC world championships at my cousin's house, jaw on the floor watching Craze doing insane moves. It's not just what he does, it's how he does it. No one owns the decks like he does and I think his class and style comes across well in FABRICLIVE 38!
Anneka Buckle (Promotions Assistant & Office Manager)
fabric 54: Damian Lazarus
This mix is totally untamed, genre-busting and straight-gangster! The caped crusader, as we've all come to know him and love him at the disco got me locked in from the start with the haunting atmospheres of Four Tet's 'Love Cry', the upbeat house canon of The Martinez Brothers' 'Broke In The BX' and bohemian groove of Su Kramer's 'Magic Dance.' A monstrous twelve hours into the 11th birthday last year, I got to hear a selection of the tracks from the album in his late-night set, it was an unforgettable moment!
Saul Press (Promotions)
FABRICLIVE 50: dBridge & Instra:mental present Autonomic
My favourite and most memorable release is FABRICLIVE 50. I remember getting this CD not long before I went on holiday to Australia. The mix went straight onto my iPod and was the soundtrack to my travels. It brings back fond memories of beautiful countryside, sunshine and great company. I love the way it starts with the lovely vocal track but soon turns dark. The best track in my opinion is number 7, 'Lover Shell' by Consequence – I think the strings in this track really make it stand out, the way they seem almost out of time with the track, great!
Rob Butterworth (Accounts)
fabric 55: Shackleton
Why do you particularly like it?
Exclusive and unreleased material that's all his own. To use a quote from Fact: "Floor-friendly grooves, dense tribal polyrhythm and rough industrial textures. It's the sound of an artist in his element and confirms what we've known for years – Shackleton isn't just in a different league to the rest, he's invented his own superior sport. Once you've tried Shack, can you ever go back?"
What is your favourite track/part of the mix?
Couldn't pick a favourite part, it's quality from start to finish!
Any fond memories where it has provided the soundtrack?
Probably the finest set I've seen at fabric (at the album launch party).
Nathan Leslie (Operations)
fabric 04: Tony Humphries
Love the US style and this release coincided with a great summer for me (2002), just bought a convertible at the time (first car) and seemed to spend all summer cruising around with mates with that CD as the soundtrack much of the time it seemed, perfect summer CD. Love every one of the first 6 tracks in particular.
Rob Hughes (Operations)
FABRICLIVE 07: John Peel
John Peel was a legend with amazing tastes in music, he's put in a wide selection of influences on this CD. Just a really good selection of tracks that anyone can appreciate. It provided the soundtrack to my hellish journey to Glastonbury in 2005, it took the whole day!! 3 trains, 2 buses and a taxi! This CD somehow kept my spirits up!
Kate Malcolm (fabricfirst)
FABRICLIVE 59: Four Tet
Because of the level of creativity behind it. You can feel Kieran's dedication to the mix. I think it's a real honour to have him behind a record for fabric – it reinforces what the club and label is all about. The samples of people talking and laughing inside the club bring a personal and intimate touch to the mix. Persian's 'Feel Da Vibe' is one of my favourite tracks on the album. Hebden forever.
Jemma Allen (Events)
FABRICLIVE 59: Four Tet
My favourite is the recent Four Tet release, not only because it's a great mix and I generally have a lot of love for it but also because it was one of the first fabric CDs given to me when I started working here. My favourite track is Four Tet 'Locked', because it reminds me of his album launch party which was one of my best nights at fabric so far!
Uma Bala (Accounts)
FABRICLIVE 42: Freq Nasty
This CD is some bad ass dubstep from the word go. For me, by far the best FABRICLIVE with impeccable mixing. I loved it from first play – 'Peacemaker' by Freq Nasty vs Propa Tings is my favourite track.
Luke Laws (Operations)
FABRICLIVE 44 – Commix
Why do I like it – it appeals to my energetic nature... My favourite track is Logistics - Murderation.
Cameron Leslie (Founder)
fabric 01: Craig Richards
Why do you particularly like it?
It was our first release, therefore it's the oldest but I think its really stood the test of time, for me it's a classic - I enjoy it as much now as I did then.
What is your favourite track/part of the mix?
Enrst Viebeg – Nightlife into Bushwacka! – Bluntski
Any fond memories where it has provided the soundtrack?
Individual tracks more than the whole CD, fantastic memories of Jon Marsh playing CPEN – Pirate's Life at the 1st Birthday in Oct 2000, got an amazing video from the middle of dancefloor at about 11am - captured the moment so perfectly. As such it's the soundtrack of lots of great memories of a great period at fabric!
Every fabric release is available here.
fabricfirst members receive the latest mix in the series every month (as well as a host of other benefits) from as little as £5 per month.